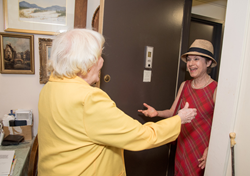 I want to thank you for thinking of me with the beautiful package you sent.
(PRWEB) September 14, 2017
On Sunday, September 17th, DOROT will host its annual Rosh Hashanah package delivery. On the Upper East and West Sides, as well as in Westchester, volunteers of all ages will bring nearly 700 packages to isolated older adults. This event combats social isolation and brings the generations together, all while helping seniors welcome in the Jewish New Year. Volunteers will deliver packages to seniors and stay for a visit.
Package deliveries bring companionship and friendship to isolated older adults, just as DOROT has been doing for 40 years. Rosh Hashanah packages are filled with grape juice; honey; fruit; traditional candles; other food staples; a card and calendar; and are always accompanied by a friendly volunteer.
Before delivering the packages, volunteers participate in a brief orientation and meet with DOROT staff to go over delivery guidelines. Once they deliver the package, volunteers stay and chat with seniors, swapping stories and often creating lasting friendships and memories. For many seniors, the volunteer visits and bags filled with holiday items are a warm prelude to the Jewish New Year. For those who don't celebrate, it is another opportunity to meet a volunteer guest. DOROT's Rosh Hashanah package delivery occurs annually, as do other seasonal package deliveries. They bring vital services to elders at moments when their loneliness may be exacerbated by having to spend holidays alone or having not had a visitor in a while.
DOROT is a social service agency dedicated to alleviating social isolation among older adults by providing services to help them live independently as valued members of the community. Recently, DOROT received the 2017 Eisner Prize for Intergenerational Excellence which recognized DOROT as a pioneer in reuniting the generations and making communities better places to live.