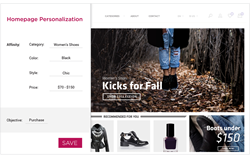 (PRWEB) September 13, 2017
Boston, MA: e-Spirit Inc. today announced the FirstSpirit Intelligent Content Engine, a new core component of the FirstSpirit Digital Experience Hub. The FirstSpirit Intelligent Content Engine enables marketers to provide personalized, content-rich digital experiences via any channel to increase engagement and compel users to action throughout the buyer's journey.
The FirstSpirit Intelligent Content Engine uses an advanced customer segmentation engine with artificial intelligence (AI) to build actionable customer segments in real time, enabling marketers to take instant action via personalization, recommendations, automatic optimization and real-time messaging. Users can coalesce data from internal and external sources, coupled with behavioral data, to create dynamic, content-rich experiences that influence and drive conversions. Personalized content is then delivered to any channel through real-time advanced targeting and using FirstSpirit Content as a Service (CaaS). These digital experiences can then be optimized based upon select goals such as revenue, profitability, page views, etc. It's AI-powered personalization in one platform.
Capabilities include:
● Advanced customer segmentation—Develop and target valuable audience segments with highly individualized experiences using cross-channel behavioral insights and data from external and internal sources.
● Automated personalization—Optimize interactions and drive conversions by dynamically delivering synchronized and personalized content and page layouts across devices and channels.
● Real-time testing and optimization—Drive clicks by automatically and continuously optimizing the performance of any content using AI-powered testing and optimization algorithms.
● Product and content recommendations—Increase user retention, session length and purchases by inserting data-driven product, content and email recommendations at critical touchpoints and drop-offs.
● Behavioral messaging—Boost engagement with behavioral-triggered incentivizing overlays and notifications, retargeting display ads, exit intent overlays, emails, and more.
"By 2020, artificial intelligence will be used by at least 60% of organizations for digital commerce… With AI, personalization engines can quickly discover the correlation between customer attributes and observed activities. The engines can display different content with more granularity and include data points from a larger number of sources, moving close to individual personalization. This will improve the effects of personalization," according to Gartner.1
"We are excited to bring this advanced personalization solution to our customers," said Udo Straesser, chief revenue officer for e-Spirit. "The FirstSpirit Intelligent Content Engine will help marketers to finally tap into the power of data to create and deliver highly individualized content to their users in real-time, synchronized across any channel to outperform their competitors. We call this the digital experience edge and it aligns with our mission to be the leader in delivering personalized digital experiences, anytime, anywhere for maximum impact."
1 Gartner, How to Apply Artificial Intelligence to Digital Commerce, 16 May 2017
About e-Spirit AG
e-Spirit's FirstSpirit Digital Experience Hub, offered through a SaaS or on-premises model, helps businesses engage customers and increase revenue with personalized, content-rich digital experiences anytime, anywhere. Savvy digital marketers across all industry sectors rely on the FirstSpirit platform for individualized and synchronized content delivery across all channels to differentiate their companies and compel their users to action.
e-Spirit, founded in 1999, is part of the adesso Group and has offices in 16 locations in the US, Germany, Great Britain, the Netherlands, Switzerland and Austria. Customers include international brands and corporations such as L'Oréal, Lancôme, Commerzbank, BASF, Bosch, Belk, ECCO, Urban Decay, Olympus, Santander Bank, Sterling Jewelers and many others. For more information, go to http://www.e-Spirit.com or call us at 781.862.5511. http://www.e-Spirit.com