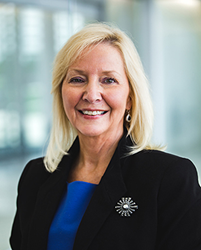 Grinnell, Iowa (PRWEB) September 15, 2017
Dawn Sly-Terpstra of Grinnell Mutual in Grinnell, Iowa, was one of 10 women nationwide to receive the Women in Insurance Leadership Award from Digital Insurance for her dedication to Grinnell Mutual and the insurance industry. The award, now in its 12th year, honors women working in the insurance industry who have impacted the success of their companies. She will receive her award at the Women in Insurance Leadership Forum on Sept. 13 and 14 in Chicago, Ill. The forum will recognize the 10 honorees, and will hold presentations and discussions about technology, regulation, and diversity.
During her time at Grinnell Mutual, Sly-Terpstra recently helped steer the company's top-to-bottom rebranding project. Over her 12-year tenure she has been instrumental in moving the company toward a robust digital presence, creating a powerful content marketing program, building a comprehensive social media presence, initiating the creation of a customer experience team. She's also been involved with insurtech startup companies through her work with the Global Insurance Accelerator and the Iowa AgriTech Accelerator.
"Dawn has been delivering dynamic leadership at Grinnell Mutual for more than a decade. She has done an outstanding job guiding the introduction of a well-defined brand, supported by a relevant and personalized digital experience." said Roby Shay, Vice President of Enterprise Solutions. "We are proud of the vision she has created for Grinnell Mutual's digital future and celebrate her recognition in the insurance industry."
About Grinnell Mutual
Grinnell Mutual, in business since 1909, is the 109th-largest property casualty insurance company in the United States and the largest primary reinsurer of farm mutual companies in North America. The company provides reinsurance for farm mutual insurance companies as well as property and casualty insurance. Its products are available in 15 states.
For more information, please contact:
Jennifer Miller
Integrated Marketing Manager
641-269-8322
Jennifer.Miller(at)grinnellmutual(dot)com