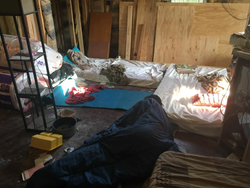 It's been heart warming to see all the contributions from businesses, Etsy store creators, and even other moms like me come in. Even my kids are contributing items to the benefit auction which gives them a tangible way to contribute to rebuilding our home and school room.
Antlers, OK (PRWEB) September 13, 2017
In Honor of the England family's desire to focus on education, Activation React, a 501c3 non-profit organization supporting the England Family, will be hosting an Art and Handmade Auction to raise money needed for rebuilding their school room and replacing the lost school books and equipment damaged by the water from the life-changing flood that nearly destroyed their home. The auction will take place Friday September 29th through Sunday October 1st.
When the England family moved into their new home in 2015, they were ecstatic to finally have a dedicated school room for their five homeschooling children that could also serve as a home office area for the mother, Angela England. It was everything they had dreamed of and worked so hard to acquire.
In July of this year, they experienced a life-changing flood that left them with $30,000 worth of damage to their home. Because their insurance company has denied all claims, they are on their own to cover the multitude of costs associated with repair. The family is working hard to rebuild, with the father, Sidney, doing most of the labor to save anywhere where they can.
An initial fundraising effort brought in enough funds for repairs to some of the living spaces inside the house, but they still have a long and costly road ahead with so many repairs left undone and rooms torn apart. As summer winds down and the kids start school, they are shifting focus to fundraise and begin repairs to the school room.
Artists and Makers who contribute will be making a tax-deductible donation of a finished piece (any medium or type is permitted) or product. This includes, but is not limited to, wood crafted nameplates, fiber art weavings, self-published hand drawn books of artwork, coloring pages, and even homemade goods like soaps. Crafters will be featured on Angela's website, on the Activation React website, as well as the social media channels of top influencers.
To donate unique items that have been made or that someone would like to make to donate to the cause, please fill out this google form, and someone will be in touch soon. http://bit.ly/2xgS5Et
About the England Family
The England family is a family is a beautiful family of 7. Angela, the mom, Sidney the dad, and their 5 children, live in rural Oklahoma. They pride themselves on hard work, self sufficiency, and education. Both Sidney and Angela work full time, while Angela also homeschool's their children. Angela is the author of Backyard Farming on an Acre (More or Less), Gardening Like a Ninja: A Guide to Sneaking Delicious Edibles into Your Landscape,The Untrained Housewife's Guide to Getting Prepared: Surviving Emergencies Without Stress, and 30 Days to Make and Sell a Fabulous Ebook.