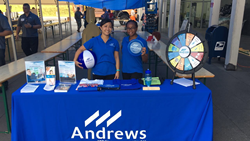 Suitland, MD (PRWEB) September 14, 2017
Andrews Federal Credit Union distributed school supplies for students during the Wiesbaden/Hainerberg Main Exchange's Back-to-School Expo. Attendees were also offered an opportunity to win Andrews Federal Credit Union apparel and prizes.
The event marked the beginning of the new school year and featured a welcome ceremony for the Department of Defense Educational Activity faculty and student body.
"It's always fun to get out in the community, to interact, educate and provide those on the spot answers that make a difference," said Andrews Federal's Gregory White, Assistant Branch Manager, Wiesbaden Branch. "We hope our support makes a difference for the children's school year, and ultimately, their future."
About Andrews Federal Credit Union
Andrews Federal Credit Union was founded in 1948 to serve the needs of military and civilian personnel by providing a vast array of financial products and services. With over $1.5 billion in assets, Andrews Federal has grown to serve more than 120,000 members in the District of Columbia, Joint Base Andrews (MD), Springfield, Virginia (VA), Joint Base McGuire-Dix-Lakehurst (NJ), and military installations in central Germany, Belgium, and the Netherlands. In addition, the Credit Union serves as a financial partner with many select employee groups in Maryland, the District of Columbia, Virginia and New Jersey.
To learn more about Andrews Federal Credit Union and its community involvement, or to become a member, call 800.487.5500 or visit http://www.andrewsfcu.org.