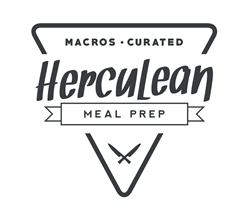 "Cutting fat and building muscle by way of delicious food: It's a story everybody and their body can truly appreciate."
Indianapolis, IN (PRWEB) September 14, 2017
Measuring macronutrients is a now a thing of the past for both the hungry and health-conscious. Brothers in both life and in business, Ben and Nate Canary will open the first HercuLean Meal Prep store located at 3832 82nd Street in Indianapolis, on September 14. The store's "Macros Curated" mantra embodies the goal of helping people change their health and their future. 
"Opening HercuLean's first store is a true mixing of our expertise in food science and culinary passion, and bodybuilding," said Ben Canary, co-founder of HercuLean Meal Prep. "Cutting fat and building muscle by way of delicious food: It's a story everybody and their body can truly appreciate."
HercuLean's story begins years ago when Ben Canary, a self-taught chef with university degrees in psychology and FDA regulatory compliance, wanted to lose weight. He paired up with his award-winning bodybuilder brother Nate, to learn exactly what to eat in order to gain muscle and lose fat. Because those meals were simple but bland, Ben put his food science studies and passion for creating delicious meals to work. The product was a line of meticulously prepared, macros-balanced meals — freezable and heatable in both the microwave and oven — that now has a cult-like following. 
"While our HercuLean meal plan is based on my original bodybuilding diet, it's really for anyone seeking to compete with themselves to achieve the best health for their body type," said Nate Canary, co-founder of HercuLean Meal Prep. "We have women in their 60s who live by our meals, as well as college students, parents of toddlers, and even a man who was now lost over 100 pounds on our plan." 
HercuLean's plan cuts fat without losing muscle through its "Macros Curated" prepped meals that each have the correct amount of protein, fat and carbohydrates. HercuLean offers 23 meal menu options including spicy pulled pork with broccoli and sweet potatoes, turkey chili made with cauliflower and beans, and whitefish with kale and red potatoes. Meals are ordered in person at the store or via subscription plans (for as little $7 per meal), and picked up weekly or bi-weekly, depending on the customer. Meals can be shipped for an additional charge. 
A larger grand opening event is planned for later in autumn 2017. 
ABOUT HERCULEAN MEAL PREP
HercuLean Meal Prep was founded in 2017 by two Indiana-born brothers, Nate and Ben Canary, a bodybuilder, and a food scientist / self-taught chef. The "Macros Curated" mantra is embodied through the 23 meal options available on a subscription basis, for as little as $7. The HercuLean Meal Prep store opened in September 2017, and isolated at 3832 82nd Street in Indianapolis, Indiana. For more information, visit HercuLeanMealPrep.com
FACEBOOK: https://www.facebook.com/macros.curated/
INSTAGRAM: https://www.instagram.com/macros.curated/?hl=en