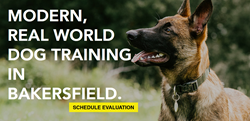 Bakersfield, CA (PRWEB) September 14, 2017
Bakersfield K9 Solutions, a canine obedience school that provides training to all breeds of dog recently unveiled their re-designed website. The site provides both information about the company as well and interactive portals to allow clients to more easily access the company's services. According to a Bakersfield K9 Solutions representative, "We are proud of the new website. It not only looks good and provides our clients with the information they need to make the right choice for their dog, but it is fully interactive and enables both existing and future clients to communicate with us in an efficient and effective manner."
The website is designed simply, but effectively. The home page offers just about all the information a visitor needs to assess the company and take the next steps. This home page describes the company's services and details their methodology when it comes to obedience training. Before taking any further action, a visitor can read about how the company approaches obedience training and what they and their dog can expect. The narrative is posed as a series of questions that any dog owner might ask, and the answers to those questions reveal the philosophy the company holds during all obedience classes.
Even before reading any of that, visitors to the site first encounter the site's interactive features. They can schedule an evaluation by simply clicking an interactive button in the top quarter of the home page. Clicking the button takes visitors to a simple form that allows them to purchase an evaluation for their dog. The evaluation purchase page is neatly designed and can be filled out and sent in a matter of minutes. This page even allows clients to type in their training goals for their dog and send though the company.
The website also has tabs that let visitors learn about the company, review the company's services, and contact the company. The final tab sends visitors to a gallery highlighting the dogs that have benefited from the obedience training.
To learn more about Bakersfield K9 Solutions visit the re-designed website at http://www.bakersfieldk9.com. Company representatives can also be reached at 661.210.3935