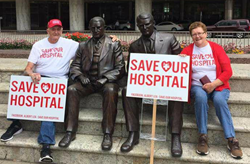 Albert Lea, MN (PRWEB) September 22, 2017
MEDIA OPPORTUNITY:
Save Our Hospital - Albert Lea will host media (photo and video) at its rally to interview citizens on why they are rallying against Mayo Clinic. Specifically, media can talk to steering committee members and patients regarding their stories and commitment to this effort against Dr. Noseworthy's (CEO) decision to close the Albert Lea hospital.
The rally aims to protect the most vulnerable and very sick who will no longer have access to intensive care services. Everyone from the Governor of Minnesota, Attorney General of Minnesota, citizens, and the AARP have asked Mayo to delay its decision and communicate with citizens. Dr. Noseworthy has ignored all pleas and betrayed every core value established by the Mayo Brothers.
WHO:
-Ask Albert Lea Citizens/Patients about impact of Mayo's decision on them.
-Interview Save Our Hospital Steering Committee on next steps.
-Interview elected officials on why they are supporting effort.
-Video and photograph protesters of Mayo Clinic leadership's decision to close hospital.
WHEN:
Saturday, September 30, 2017 at 1:00 p.m. – 3:00 p.m.
WHERE:
Albert Lea Central Park
315 Water Street
Albert Lea, MN 56007
Please follow us on Facebook at: ALBERT LEA - SAVE OUR HOSPITAL where you can learn all about why citizens are rising up against a corporation that is now putting profits before patients. SOH is a grassroots group of citizens from Albert Lea and surrounding communities who share a commitment to keeping a full-service, acute care hospital in Albert Lea (population 18,000 with a service area of 55,000+). We are endorsed by the Albert Lea City Council, Freeborn County Commissioners, Albert Lea School Board, Albert Lea Economic Development Agency, and AARP. Email: sohinalbertlea@gmail.com.
Logistics Contact: Angie Hanson, 507-438-6250, AngieLynnHanson@gmail.com