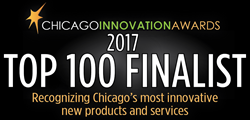 "We are thrilled and honored to again be selected as a finalist for this prestigious award." ~ Jacob Babcock, CEO, NuCurrent
Chicago (PRWEB) September 14, 2017
NuCurrent, a leading wireless power system and magnetics solution provider, announces the company has been named a finalist for the 2017 Chicago Innovation Awards. Now in its 16th year, the awards celebrate the most innovative new products and services in the Chicago region across all organization sizes, sectors and industries. Winners for each of the Chicago Innovation Awards categories will be announced at a gala event on October 30 at Harris Theater in Chicago. NuCurrent was named a 2015 Chicago Innovation Up-and-Comer Award Winner.
This year's Chicago Innovation Awards program attracted 530 nominees, which has been narrowed down to the Top 100 finalists. Out of the finalists, the judges will select 10 winners of the Chicago Innovation Awards, as well as 10 winners of the Up-and-Comer Awards representing innovation in the startup community, the Social Innovator Award, the Collaboration Award, and three Neighborhood Award winners, which will showcase innovation occurring in Chicago's diverse neighborhoods. All finalists are also in the running for the annual "People's Choice Award," selected through public online voting from September 13–October 5 at http://www.chicagoinnovationawards.com. Past award winners include Molex, Braintree, Groupon, GoGo, Cleversafe, Motorola and Orbitz.
"This year's nominees demonstrate the economic impact that innovation is having within organizations and on the Chicago region as a whole," said Tom Kuczmarski, co-founder of the awards, along with Chicago journalist Dan Miller. "This year's nominees generated $3.39 billion in new revenues through their new products and services alone, and created over 24,000 new jobs."
"We are thrilled and honored to again be selected as a finalist for this prestigious award," said Jacob Babcock, CEO, NuCurrent. "As engineers and product managers look to build in wireless power capabilities into their products, they're continuing to turn to NuCurrent because we provide certainty and clarity on getting their products to market with superior wireless power performance, faster time-to-market, and magnetics plus full-system design and integration capability. We not only help customers get their wireless power-enabled products to market quickly, but win in their markets by giving them a competitive advantage in wireless power."
NuCurrent was recently named a 2017 FLEXI Product Innovation Award winner, 2017 ITA CityLIGHTS Industry Disrupter Award Finalist, and 2016 IoT Breakthrough Awards' M2M Embedded Hardware Company of the Year. The company was also named a finalist for the 2017 Timmy Best Technology Work Culture Award, and a Chicago Inno 2016 50 on Fire Winner, which honor the year's most groundbreaking individuals and organizations in the Chicago area. NuCurrent was also named No. 1 on the 2015 Crain's Chicago Business Eureka Index with the highest per-capita patent output of any company in Illinois. The company was also listed in the top 10 percent overall in patent quality score, which considers the uniqueness of the invention covered by a patent and other important factors.
To view the 2017 Chicago Innovation Awards list of finalists or cast your vote for the People's Choice Award, visit http://www.chicagoinnovationawards.com between September 13–October 5. To learn more about NuCurrent, please contact info(at)nucurrent(dot)com or visit http://nucurrent.com.
About NuCurrent
NuCurrent is a leading developer of high-efficiency wireless power solutions including magnetics and full-system integration. They help customers get to market quickly, with more certainty and with better performance. Whether customers want proprietary solutions or compliance across the Wireless Power Consortium (Qi) or AirFuel AllianceTM, NuCurrent works closely with electronic device OEMs and integrators to determine the best implementation of wireless power for their product and deliver that solution through custom-design, rapid-prototype, advanced simulation, and superior performance. NuCurrent's patented technology, proprietary tools and design techniques mitigate typical high frequency effects, offering higher efficiency, smaller sizes, higher durability, and lower total cost for wireless power system implementation. Based in Chicago, NuCurrent has been defining the leading edge of wireless power design since 2009 and has over 65 patents granted or pending worldwide. For more information, visit http://nucurrent.com and follow us on Twitter at @NuCurrentTweets.