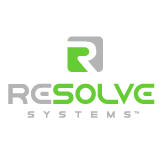 The session Find it with Splunk, Fix it with Resolve: Your Solution for Enterprise-wide Incident Response & Resolution will be Tuesday, September 26th, 2:45-3:00pm in Community Theater B.
IRVINE, Calif. (PRWEB) September 18, 2017
Resolve Systems today announced it is a Tera-level sponsor of .conf2017: The 8th Annual SplunkⓇ  Conference. As one of the most deployed enterprise-wide Security and IT Incident Response, automation, and process orchestration platforms, Resolve Systems fundamentally reduces the amount of time to diagnose, respond to, and remediate incidents across IT, Network, and Security. At .conf2017, Resolve Systems will showcase how human-guided automation and orchestration optimizes customer value from Splunk's data platform to validate, investigate, and resolve security incidents. Resolve Systems will be in booth number T2.
"Resolve Systems is excited to showcase our integration with Splunk at .conf2017. Our combined technologies provide a comprehensive solution for handling incidents for our customers. Splunk IT and security analytics help customers to quickly detect, analyze and investigate events, while the Resolve Incident Response and Automation Platform can use Splunk data to resolve incidents with human-guided automation, orchestration, out-of-the box integrations, and playbooks," said Larry Lien, Chief Product Officer of Resolve Systems.
The session Find it with Splunk, Fix it with Resolve: Your Solution for Enterprise-wide Incident Response & Resolution will be Tuesday, September 26th, 2:45-3:00pm in Community Theater B and focus on how Resolve Systems reduces the amount of time it takes to validate, assess, and resolve incidents across the NOC, SOC, or IT Ops. Larry will demonstrate how Resolve's automation and orchestration capabilities can seamlessly complement Splunk products with fully certified Splunk apps for Splunk Enterprise, Splunk Enterprise Security and Splunk ITSI. Resolve takes known incidents from Splunk and can accelerate incident response and resolution through human guided automation. Resolve has been proven to dramatically improve incident response times and drive cost savings for the largest and most complex enterprises and services providers in the world.
"We're pleased to have Resolve Systems join us at .conf2017 in Washington, D.C. as a Tera-level sponsor," said Brian Goldfarb, Chief Marketing Officer, Splunk. "As a member of our Technology Alliance Partner Program, Resolve Systems provides business value to our joint customers and complements Splunk solutions with technology for incident response, orchestration, and automation."
.conf2017 will feature more than 200 technical sessions, including more than 80 customer presentations, and is expected to attract IT, security and business professionals from across the globe who know the value of their data. The conference will be held September 25-28, in Washington, DC at the Walter E. Washington Convention Center in Washington, DC, with three days of optional education classes through Splunk University, September 23-25, 2017.
.conf2017 attendees will learn how to gain Operational Intelligence from machine-generated data by improving customer experience and service delivery, enhancing IT performance, shipping better code faster, providing timely business insights or reaching new levels of security in their organization. With 85 of the Fortune 100 in attendance, it's the best place to learn how leading companies are using Splunk. Attendees will share best practices, discover new features and ways to implement Splunk software to gain insights from their data. Register for .conf2017. At the conference, follow us on LinkedIn and Twitter @splunkconf.
About Resolve Systems
Resolve Systems is an enterprise-wide incident response and automation solution for IT Operations, Security Operations, Network Operations and service desk teams.
Resolve accelerates incident response and resolution by supplying engineers with partially or fully customized human-guided automations, powerful real-time incident collaboration, and the omnipresence to orchestrate existing systems, across silos.
Headquartered in Irvine, California with operations in EMEA and APAC, Resolve Systems supports Fortune 500 customers around the world and is majority owned by funds affiliated with Insight Venture Partners, a leading global private equity and venture capital firm investing in high-growth technology and software companies.
About Insight Venture Partners
Insight Venture Partners was founded in 1995 and has raised more than $13 billion and invested in nearly 300 companies worldwide. Insight Venture Partners' mission is to find, fund and work successfully with visionary executives, providing them with practical, hands-on growth expertise to foster long-term success.
For more information on Insight and all of its investments, visit http://www.insightpartners.com or follow us on Twitter.
Splunk, Splunk>, Listen to Your Data, The Engine for Machine Data, Splunk Cloud, Splunk Light and SPL are trademarks and registered trademarks of Splunk Inc. in the United States and other countries.