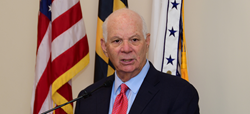 We must fulfill the national promise to adequatetly resource programs supporting those who serve.
Washington, DC (PRWEB) September 14, 2017
"We must fulfill the national promise to adequatetly resource programs supporting those who serve," retired Air Force Lt. Gen. Dana Atkins, president and CEO of the Military Officers Association of America (MOAA), told the MOAA Maryland Council of Chapters (MCOC) during their annual congressesional luncheon Wednesday on Capitol Hill.
MOAA leaders representing nine Maryland chapters hosted the luncheon to express their gratitude to Sens. Benjamin Cardin, D-Md., and Chris Van Hollen, D-Md., along with seven representatives, for their leadership and support of issues facing veterans, military retirees and those currently serving and their families.
The MOAA Maryland council, led by its president, retired Army Col. Harvey T. Kaplan, stressed three key legislative priorities:

Repealing sequestration.
Ending the Survivor Benefit Plan/Dependency and Indemnity Compensation offset or "widows tax."
Rejecting disproportional TRICARE fees.
Other lawmakers in attendence included Reps. Andy Harris, R-1st; A. Dutch Ruppersberger, D-2nd; John Sarbanes, D-3rd; Steny Hoyer, D-5th; John Delaney, D-6th; Elijah Cummings, D-7th; and Jamie Raskin, D-8th.
Harris said the House members have suggested breaking with the Budget Control Act and negating the parity between defense and nondefense spending.
"In my mind, I don't know how you equate the importance of the defense of our nation with almost anything else," Harris said. "The House is prepared to break that linkage to enhance the defense budget by billions of dollars and put the nation on the long-term economic trajectory to get there."
Van Hollen described the Senate floor debate on the National Defense Authorization Act.
"We're working hard in a bipartisan way to make sure the men and women in the military have all the support they need at home and abroad to provide for our defense," he said.
On sequestration, Van Hollen said, "because of the spending caps, we're not doing what we need to do to support our military and other nonmilitary programs like education and infanstructure." He went on to describe the direct impacts of education on military recruiting.
Atkins reminded the audience not to lose sight of challenges facing the all-volunteer force, specifically in recruiting, as a result of congressional decisions. While barely 23 percent of the nation's 18- to 24-year-olds are eligible for military service, the hard choices made by Congress are eroding the incentive to join, including:
Pay raises below the employment cost index.
Targeted reductions in the basic allowance for housing.
The Blended Retirement Plan shifts a portion of the risk from the government to the service member.
Atkins concluded by thanking the Maryland Council and Chapters for their profound support of the military community and the strong relationships they have cultivated with their state congressional delegation.
The MCOC comprises 10 MOAA chapters in the state and works to further the goals of national MOAA and local MOAA chapters. More than 12,000 MOAA members make their home in Maryland.
-End-
About MOAA:
Military Officers Association of America (MOAA) is the nation's largest officers association with more than 355,000 members from every branch of service, including active duty, retired, National Guard, Reserve, and former officers and their families and survivors. MOAA is a nonprofit and politically nonpartisan organization and an influential force in promoting a strong national defense. MOAA represents the interests of servicemembers and their families in every stage of their lives and careers, and for those who are not eligible to join MOAA, Voices for America's Troops is a nonprofit MOAA affiliate that supports a strong national defense. For more information, visit http://www.moaa.org or http://www.voicesfortroops.org.
Members of the news media who wish to be added to our media distribution list for MOAA news releases, please contact requestnews(at)moaa(dot)org. Visit MOAA's Multimedia & Press Room at http://www.moaa.org/media/default.htm.