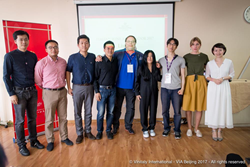 "Believe me, Ian is so lovely that you will forget your painful effort to study his book!" Xiaolu Zhou
(PRWEB) September 15, 2017
Vinitaly International Academy (VIA) successfully launched its first ever Certification Course in Beijing, China. After a week of training followed by a final exam held on September 14th, VIA welcomed its 9 new Italian Wine Ambassadors (IWAs).
Representing the one and only opportunity for wine professionals to gain extensive knowledge on the vast subject of Italian grapes and wines, the Certification Course enables all professionals to speak of Italian wine in a unified and organized manner, with true in-depth knowledge. Five days of intense classroom lectures and wine tastings were conducted by Dr. Ian D'Agata, author of Native Wine Grapes of Italy (winner of the 2015 Louis Roederer International Wine Book Awards as Book of the Year). D'Agata has been running the course since 2015.
Candidates from all over China and neighboring countries took part in the course in order to leverage this opportunity of increasing their understanding of Italian wine. "I'm so honored to have taken this class and exam. VIA is a very special course that is building a totally new study system for Italian wine. It was very helpful and impressive!", says Ning Yi, Chief Educator at Tasting Annex Wine & Spirits Consultants, and one of the new IWAs. Many participants were very passionate and enthusiastic about Dr. D'Agata's unconventional way of teaching. Gengnan Yang, Wine Educator at Nanvilla Wine Culture Communication explains "Ian is the BEST and the TRUE Italian wine expert in the world, I feel so lucky to have him in this course… he is on fire!". Xiaolu Zhou an experienced wine importer at Nanjing Sansotta International Trading also highlighted the exceptional experience. "Believe me, Ian is so lovely that you will forget your painful effort to study his book!". David Xing, Wine Educator at Dragon Phoenix Wine Consulting jokes, "Don't be fooled by his smily face, the exam will kill you."
At the end of the course, VIA welcomed 9 new IWAs (See the entire list below), bringing the count for IWAs to 108, 7 of which are Italian Wine Experts (IWEs), the highest VIA certification). Liu Jia, a Self-Media Italian Wine Tour Blog Writer, scored the top score out of the 37 candidates. Newly-certified IWAs and IWEs, will be able to support VIA in teaching the courses around the world and broadcasting the excellence of Italian wines.
Stevie Kim, Founder of Vinitaly International Academy comments, "It always surprises me how dedicated and fanatically passionate the top scorer of the class is. Liu Jia (his Italian nickname is Freddo), is the top scorer from Beijing and his enthusiasm is absolutely contagious. I suppose Italians and all things Italian can do that to people, and Italian wine is certainly not immune to this. Immediately following the pinning ceremony, Freddo came up to confess that he'd actually quit his high-paying salaried job as HR director to reorganize his schedule to properly dedicate enough time to prepare for the course. Despite Italian wine's lackluster performance in China, this type of attitude from Italian wine lovers are encouraging."
It is not by chance that after three editions in Italy, the first two countries to hold the courses are USA, today's largest market for Italian wines, and China, the market of tomorrow. Currently, VIA is home to 2 IWEs and 32 IWAs from USA, and 2 IWEs and 25 IWAs from the Greater China area. "With each additional IWA, VIA looks to further expand its Italian Wine community all around the world, and I must say so far it's looking pretty promising", confirms Kim.
Full list of our 9 newly certified Italian Wine Ambassador Beijing Edition 2017
Heng Gui, Wine Educator at North China
Xiang Li, Wine Educator at East Meet West Fine Wine
Junjie Shi, Wine Educator at EWM Trading Company Limited Shenzhen
Daria Vereshchagina, Director of LLC Mistral restaurant and Head sommelier at DOM
Jun Wei, Wine Educator at Tasting Annex Wine & Spirit Consultants
Wei Xing, Wine Educator at Dragon Phoenix Wine Consulting
Ning Yi, Chief Educator at Tasting AnnexWine&Spirit Consultants
Mi Zhu, Wine buyer at Amazon China
Jia Liu, Wine Educator and Self-Media Italian Wine Tour Blog Writer
For more details about the VIA Certification Course and the Ambassador's BIO see:
http://www.vinitalyinternational.com/vinitaly-international-academy/candidates
http://www.vinitalyinternational.com/images/via/next_course_2017.pdf
About:
Veronafiere is the leading organizer of trade shows in Italy including Vinitaly (http://www.vinitaly.com), the largest wine and spirits fair in the world. During its 51th edition Vinitaly counted more than 4,270 exhibitors on a 100,000+ square meter area and 128,000 visitors from 142 different countries with more than 30,000 top international buyers (up by 8%). The next edition of the fair will take place on 15 - 18 April 2018. The premier event to Vinitaly, OperaWine (http://www.operawine.it) "Finest Italian Wines: 100 Great Producers," will unite international wine professionals on April 14th in the heart of Verona, offering them the unique opportunity to discover and taste the wines of the 100 Best Italian Producers, as selected by Wine Spectator. Since 1998 Vinitaly International travels to several countries such as Russia, China, USA and Hong Kong thanks to its strategic arm abroad, Vinitaly International. In February 2014 Vinitaly International launched an educational project, the Vinitaly International Academy (VIA) with the aim of divulging and broadcasting the excellence and diversity of Italian wine around the globe. VIA this year launched the fourth edition of its Certification Course and today counts 108 Italian Wine Ambassadors and 7 Italian Wine Experts.