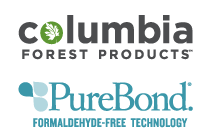 The PQA competition is a way for us to recognize the exceptional work being produced by our PureBond Fabricator Network™ members.
Greensboro, NC (PRWEB) September 14, 2017
Columbia Forest Products announces the winners of the sixth annual PureBond® Quality Awards (PQA) competition. The PQA competition recognizes exceptional design and craftsmanship using formaldehyde-free PureBond® hardwood plywood materials to create interior spaces and finished goods that are visually and functionally distinctive.
Contestants competed for prizes in three categories - Residential Kitchen, Residential Other, and Commercial. Seven projects were chosen for PQA recognition this year by a team of expert judges.
Speaking about the significance of the competition, Todd Vogelsinger, Columbia Forest Products' director of marketing said, "The PQA competition is a way for us to recognize the exceptional work being produced by our PureBond Fabricator Network™ members. We've forged strong partnerships with woodworking operations all across North America who build quality custom installations and furnishings for residential and commercial clients using our beautiful and formaldehyde-free PureBond® brand of hardwood plywood, and it's important to share the amazing work they do with it every day."
2017 PQA Competition Winners
Now in its sixth year, the PureBond Quality Awards competition has become an important way to spotlight the accomplishments of woodworking specialists. The 2017 competition winners included the following shops in the United States and Canada:
Residential Kitchen Category Winners

First Place: Ruffino Cabinetry, Fort Myers, FL
http://www.ruffinocabinetry.com/

Second Place: Beech Tree Woodworks, Olympia, WA
http://beechtreecustomcabinets.com

Third Place: Fitucci Cabinets, Valencia, CA
Residential Other Category Winners
First Place: Fitucci Cabinets, Valencia, CA
Commercial Category Winner
First Place: Provincial Woodworkers, Ltd., Dartmouth, Nova Scotia CANADA
http://provincialwoodworkers.com
Judging the Competition
The panel of judges assembled for the sixth annual PureBond Quality Awards competition included:
C. T. 'Kip' Howlett, Jr., president of the Hardwood Plywood & Veneer Association (HPVA) representing North American manufacturers of hardwood plywood, veneer and engineered flooring and their value chain including suppliers, distributors and fabricators. Mr. Howlett is also a former executive at Georgia-Pacific.
Ang Schramm, a 45-year veteran of the building materials industry and a two-term member of the Hardwood Plywood & Veneer Association's board of directors, who has also served as both chair and member of the HPVA Technical Committee. Mr. Schramm is also the author of the industry book A Complete Guide to Hardwood Plywood and Face Veneer.
Dr. Katherine Swank, chairperson of the Department of Interior Design & Merchandising in the College of Health & Human Performance at East Carolina University. Website: http://www.ecu.edu/cs-hhp/idmr/index.cfm
Chip Wade, a woodworking specialist who has lent his noteworthy carpentry and design skills to the Atlanta team of HGTV's Designed to Sell and has appeared on HGTV's Curb Appeal: The Block, Ellen's Design Challenge, HGTV's Showdown, HGTV's Design Star, Oprah, Ellen, and the TODAY Show. Website: http://www.chipwade.com/
Selecting the winning entries in the PQA competition is based on one basic criterion: demonstrating the "quality use" of PureBond hardwood plywood in a design and fabrication project.
About PureBond® Technology and the PQA Awards
Columbia's formaldehyde-free PureBond technology is a major breakthrough in the engineered wood panel market. Developed by Columbia Forest Products in conjunction with scientists at Oregon State University, the first PureBond hardwood plywood panels were produced in 2005. Since then, more than 90 million panels have been shipped.
PureBond formaldehyde-free technology continues to be a market differentiator for woodshops that cater to health-conscious and environmentally-aware clients. Nearly 900 fabricators have joined the PureBond Fabricator Network, identifying themselves as leading-edge suppliers who are thoughtful about the materials they use while offering solutions to customers concerned about indoor air quality and home resale values.
The PureBond Quality Awards competition will be held again in 2018. To join the PureBond Fabricator Network and become eligible to compete in the next PQA competition, go to http://www.columbiaforestproducts.com/resources/purebond-fabricator-network/.
About Columbia Forest Products
Established in 1957, Columbia Forest Products is America's largest manufacturer of decorative hardwood plywood and hardwood veneer. An employee-owned company, Columbia operates facilities throughout North America. It is a leader in sustainable forestry along with developing innovative and environmentally friendly technologies and products for healthy indoor living.
Columbia has provided fine decorative hardwood plywood veneer panels to North American fabricators for 60 years. The company is committed to offering the industry's widest product selection, manufactured in efficient, technologically advanced mills, and backed by exceptional service and product support.
Website address: http://columbiaforestproducts.com.