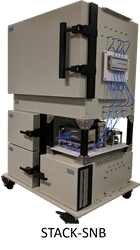 Littleton, Massachusetts (PRWEB) September 20, 2017
octoScope, the leader in accurate, repeatable and automated wireless testbeds, today announced its support for wireless testing of devices using the mid-band spectrum. The octoBox® personal testbed supports operating frequencies from 700 MHz to 6 GHz, allowing for testing in all the essential frequency bands, including cellular/LTE and Wi-Fi bands.
Due to the enormous growth in mobile connected devices, wireless data services and the use of unlicensed spectrum, wireless operators have been working with the FCC to make more shared spectrum available outside the conventional 2.4 ISM and 5 GHz UNII unlicensed bands. In August, the Federal Communications Commission (FCC) launched a Notice of Inquiry (NOI) initiative to enable wireless broadband in mid-band spectrum between 3.7 GHz and 24 GHz.
The 3.7-4.2 GHz band, which is adjacent to the 3.5 GHz Citizens Broadband Radio Service (CBRS) band, a.k.a. the 3.5 GHz band, is drawing attention. This could give those interested in some of the CBRS spectrum an opportunity to get hold of a contiguous spectrum which could bring down equipment costs and be in line with an international initiative in the same segment of the radio frequency spectrum.
The octoBox is ready to support the new mid-band opportunities as they become available and is used internationally. A small stackable testbed used for testing wireless devices and systems, the octoBox testbeds isolate the devices under test from outside interference and create a stable environment for achieving repeatable throughput measurements.
Emulating real-life wireless environment, the octoBox personal testbeds range in size from a desktop/benchtop model to refrigerator-sized configurations on wheels. The compact size of the octoBox enables wireless test and development engineers to perform fast, comprehensive and repeatable testing in their offices rather than inside large isolation chambers or in test houses.
Common tests such as throughput vs. range vs. orientation vs. interference, channel- and rate-adaptation behavior, band steering and mesh testing can be performed in the frequency range from 700 MHz to 6 GHz, including the mid-range band. These tests and many more are made easy with the octoBox personal testbeds that arrive configured with integrated instruments, antennas, RF attenuators, combiners, filters and other testbed components. Automated throughput, roaming, mesh and other tools steps through traffic patterns, device orientations, topologies and airlink conditions emulated inside the octoBox testbed, enabling rigorous testing running for long hours or even days without human intervention. Graphical reporting of test results includes plots of throughput vs. range and antenna orientation.
Countries around the world that are targeting mid-band frequencies for both licensed and unlicensed applications can use the octoBox personal testbeds for wireless testing. The octoBox testbeds are used worldwide by customers with international presence who value the ability of the octoBox personal testbeds to correlate test results obtained in labs around the world, including US, India, China, Taiwan, Israel and Europe. Sufficient access to the mid-band can assist service providers in building the next-generation of wireless networks. For more information on octoBox personal testbeds, please visit http://www.octoscope.com.
The octoBox Personal Testbed
The octoBox personal testbed is being used by wireless operators, device manufacturers and chipset vendors to test Wi-Fi, LTE, ZigBee, Bluetooth and other wireless technologies. The octoBox is an accurate and automated testbed for validating wireless devices and systems. With its complete isolation and consistent controllable test environment in labs around the world, the octoBox solution is highly-praised by its diverse users.
Watch a new video for the details about the octoScope Personal Testbed and its new Pal.
About octoScope
octoScope is the market leader in accurate and repeatable automated wireless personal testbeds. Our patented technology redefines the accuracy, stability, economics and value of over-the-air wireless testing. octoScope's product line includes robust solutions for isolation, interference generation and evaluation, client emulation, and essentially all of the elements required to evaluate the behavior and performance of a broad range of wireless devices and systems. octoScope's headquarters is in Littleton, Massachusetts.