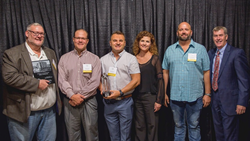 It's gratifying to see that all the effort that we put into our high standards of workmanship is being acknowledged by area companies. -- Titan Interiors President Rudy Kadiric
Grand Rapids, Michigan (PRWEB) September 17, 2017
Titan Interiors LLC, a Grand Rapids, Mich.-based contractor specializing in interior and exterior framing, has received the 2017 Excellence in Construction Award for Exterior Finishing from the Western Michigan chapter of the Associated Builders and Contractors for its work on the Hilton Garden Inn in Grand Rapids.
Titan Interiors President Bahrudin "Rudy" Kadiric and members of his construction team accepted the award at the ABC's 31st annual awards banquet held Tuesday at the 20 Monroe Live entertainment complex -- another project that Titan Interiors worked on during the past year.
"We are honored to be recognized by our peers as having performed exceptional work on the Hilton Garden Inn, the first to open in Grand Rapids," said Kadiric, who founded the company seven years ago with his brother Muhamed. "It's gratifying to see that all the effort that we put into our high standards of workmanship is being acknowledged by area companies."
Titan Interiors, which posted revenues of about $12.4 million last year from commercial/industrial projects throughout West Michigan, also has performed finishing work on St. Luke University Parish in Allendale, the first U.S. location of retailer Zatki at the RiverTown Crossings Mall in Grandville, St. Mary's Education Center in Spring Lake, and other high profile projects.
Kadiric said the company has a peak staff of about 200 who perform high-quality interior and exterior framing, drywall installation, insulation, acoustical and specialty ceilings, acoustical sound panels, EIFS/stucco, flooring and painting.
The Associated Builders and Contractors Western Michigan Chapter "celebrates the best in West Michigan construction and recognizes the most innovative and high-quality construction projects, safety efforts and craft professionals" at its annual awards ceremony. The Excellence in Construction Awards highlights both individuals and companies in various categories from safety to general construction, according to the organization's news release on the event.
"West Michigan continues to lead the industry in talent and innovative projects," Norm Brady, president and CEO of ABC/WMC, is quoted in the release. "Recognizing these individuals and companies who take such pride in continually providing excellent work in our communities is always rewarding and we congratulate and thank all of the participants for their dedication." The winners were chosen from 80 projects, and about 450 people were registered to attend the event.
For more information about Titan Interiors and its projects, please refer to the company's website at http://www.titaninteriors.net.