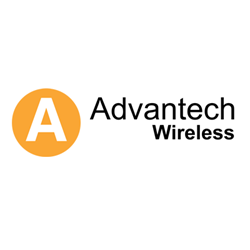 Montreal, Canada (PRWEB) September 15, 2017
Advantech Wireless, a global leader for Satellite broadband communications solutions, announced today the successful implementation of DVB-S2X, with its ASAT-II™ System, over the recently launched IS-29e High-Throughput Satellite's (HTS) southern hemisphere spot beams.
In presence of representatives from a major global satellite operator, while during a live installation and demonstration in Latin America, a national TV broadcaster and a system integrator were able to achieve the highest bandwidth efficiency over the IS-29e HTS's southern hemisphere spot beams for the first time ever. Utilizing the high MODCOD (32APSK, rate 3/4 with a 5% Roll-off) of the latest DVB-S2 standard, which is unmatched and significantly outstanding compared to a 20% Roll-off previously seen. Video, data and VoIP with high quality, encouragingly exhibited by an extremely high compression ratio applied on typical traffic, managed to achieve the highest seen efficiency after compression and acceleration.
All in attendance were impressed and particularly satisfied with the Advantech Wireless ASAT-II™ platform, including both the ASAT-II™ HUB and the E7000 DVB-S2X Terminals' performance. As well as witnessing the unique ability of on-the-fly switching between SCPC and MF-TDMA modes, enabling dynamic waveform usage as best suited for ever changing applications.
When asked about his thoughts, President & CEO of Advantech Wireless, David Gelerman said, "We are quite pleased with how everyone present was impressed and delighted to see what our advanced technology is able to achieve." He continued to say, "Once again leading the pace of innovation in our field, keeping in tradition with our continued strengths as a best-in-class industry leader across all of our product lines. We welcome this opportunity to show that the Advantech Wireless brand is in reality the best and most advanced VSAT satellite network platform out there today."
About Advantech Wireless
Reliable and secure communication is essential to global productivity, commerce and security. Advantech Wireless makes it possible by designing smarter solutions to help people connect and businesses succeed. With our customized approach, award-winning R&D and innovative engineering, we provide the industry's most advanced technologies, with the most economical total cost of ownership. We empower our clients to achieve excellence in communication, while experiencing reduced CAPEX and OPEX overall. Ultimately, our uncompromising quality and bolder thinking enable us to provide clients around the globe with smarter terrestrial and satellite communication solutions.