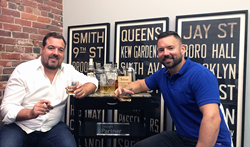 "Being shortlisted speaks to our commitment to innovation and improvement in all aspects of our work — from the innovative strategies we execute to our hardworking team members." — Chris Breikss
Toronto, ON (PRWEB) September 18, 2017
The Google Premier Partner Awards recognize and celebrate innovative digital marketing campaigns from the very best agencies across North America. Over a thousand U.S. and Canadian partners were in the running for the awards this year.
6S Marketing's nomination for the Search Innovation Award comes from consistently growing client revenue year over year. In particular, attention was paid to the agency's work with an eCommerce client in a very competitive market, which has seen significant growth across its paid search advertising campaigns.
Chris Breikss, President and Co-Founder of 6S Marketing, and Raelene Thomas, Operations Manager, are attending the North America Premier Partner Summit as well as the Google Partner Summit in New York to provide agency insights on how the Partner program can evolve to meet the ever-changing needs of clients. Chris Breikss will be speaking at the Summit on a panel titled 'Managing for Growth: Shaping a Sustainable, High-Performance Organization.'
"As a Google Premier Partner, we're able to show clients we have what it takes to help them rapidly accelerate their growth online," said Chris. "Being shortlisted speaks to our commitment to innovation and improvement in all aspects of our work — from the innovative strategies we execute to our hardworking team members."
6S Marketing is one of a select group of leading agencies that meet the stringent criteria for the Google Premier Partner designation. This means the agency has exceeded the requirements for Google Partner status — demonstrated skill and expertise, as well as client revenue growth — and has reached a further certification and performance level to achieve Premier status. Every member of 6S Marketing's team holds a certification in analytics, search, display, mobile, video, or shopping campaigns — furthering their strength in connecting paid media investment to driving business performance.
The Google Partner program is designed to help all types of businesses get online and acquire new customers. To qualify, agencies must pass a series of exams, and prove their expertise in using and applying Google's advertising products. For clients, they are reassured that they are working with a reputable provider that is approved by Google.
About 6S Marketing
6S Marketing is a leading digital agency in New York, Vancouver, and Toronto that transforms businesses for the digital age. For over 17 years, the ROI-driven direct response firm has helped clients revolutionize their businesses online. 6S focuses on emergent tactics such as marketing automation, social media and content strategy, online media buying, programmatic advertising, and multi-lingual campaigns. They execute sophisticated digital strategies for clients such as Mountain Equipment Co-op, Cirque du Soleil, Pirelli Tires, KLM Airlines, and Bulletproof Coffee. For more information, visit: http://www.6Smarketing.com.