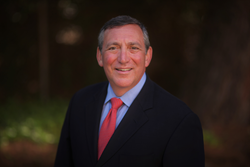 Resilinc is on a path towards explosive growth with our Risk and EventWatch solutions being broadly embraced, as well the successful adoption of Resilinc's R Score as an industry standard metric for resiliency
Milpitas, CA (PRWEB) September 18, 2017
Resilinc, the leading provider of end-to-end supply chain resiliency solutions, today announced the appointment of Joe Carson as Chief Strategy Officer, joining the Executive Leadership Team. Joe is a seasoned industry leader, whose most recent role was serving at Micron Technology as their Chief Procurement Officer out of Singapore. In his leadership roles at Micron, and prior to that at Juniper Networks, Joe helped create robust and enduring supply chain risk management organizations and award winning best practices.
"Resilinc is on a path towards explosive growth with our Risk and EventWatch solutions being broadly embraced, as well the successful adoption of Resilinc's R Score as an industry standard metric for resiliency", said Bindiya Vakil, CEO and founder. "For us to scale and get to the next operational level, we need someone who understands us inside out, and most importantly, who can also represent our customers' needs and goals."
"I'm excited to be joining Resilinc now," says Carson. "First, after implementing Resilinc at two different companies, I am convinced we have the most comprehensive solution in the industry." Carson continues, "Second, I can see the time has come for managing risk through visibility and analysis that delivers real in-year savings for companies willing to believe and invest in themselves. I couldn't give up a front-row seat as this industry takes off!"
Joe Carson on why Supply Chain Risk Management is an imperative for today's supply chain:

About Resilinc
Resilinc is the trusted provider of supply chain risk and resiliency solutions. Resilinc provides a patented, digital, automated and networked platform to allow customers to collaborate seamlessly with their direct and sub-tier suppliers. With over 2 million parts tracked across 85,000 global sites and more than 70,000 sub-tier connections, Resilinc has digitized the supply chain experience. Resilinc's approval-based mapping solution enables customers and suppliers to exchange supply chain intelligence with each other securely, and accelerates the supply chain visibility journey, from years to weeks at a fraction of the cost. Resilinc EventWatch 24x7 solution monitors 30 different risk events in 44 languages and collects impact confirmations in real time from tens of thousands of users during an event, allowing customers to engage and resolve issues efficiently and with precision during disruptions. Resilinc's solution is transformative, in that it disrupts the traditional approach of throwing more resources at problems, and enables executives to harness the power of information and automation in to predict issues proactively and resolve them quickly.