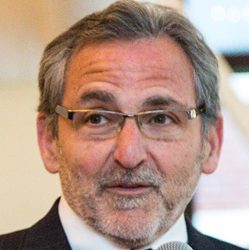 Princeton, NJ (PRWEB) September 19, 2017
Radius8 today announced that Donny Askin, retail and commerce technology veteran, has joined Radius8 in a newly created position, as a senior vice president and member of the executive team.
Askin, who has over 40 years of experience in building successful retail technology companies, previously served as Senior Vice President and General Manager for Yunique Solutions at Gerber Technology. Prior to his tenure at Gerber Technology, he served as CEO and Chairman of Arigo, a venture-backed company providing private label, global sourcing, and trade management supply chain solutions. He also orchestrated the acquisition and subsequent venture-backed growth of OrderMotion, which was acquired by Netsuite, which subsequently became part of Oracle. Earlier he founded CommercialWare, Inc., which was acquired in 2006 by MICROS Systems and subsequently became part of Oracle, as well.   
"I'm thrilled that Donny will be joining our growing team," said Radius8 CEO Sandeep Bhanote, "he shares our core values and focus on retail innovation. Donny embraces our commitment to forging revolutionary experiences for retailers and his experience as a thought leader in retail technology speaks for itself."
"I am looking forward to working with the entire Radius8 team to foster growth and innovation. This is a team that has already accomplished so much since its founding. I have worked with dozens of startup, early, and growth stage retail technology companies. None have excited me as much as Radius8," said Askin.
About Radius8:
Radius8 provides retailers real-time visibility into what is happening in proximity to their customers and stores, capturing local signals that identify new selling opportunities dynamically, driving greater web and mobile conversion all while leveraging brick and mortar assets as a strategic advantage. Headquartered in Princeton, NJ, Radius8 was founded in early 2016 by a team of retail technology experts with the goal of transforming the role of the store in today's tumultuous retail landscape. Radius8 has raised funding from Brooklyn Bridge Ventures, Elevate Innovation Partners, Commerce Ventures, Newark Venture Partners, Tigerlabs, and ARC Angel Fund.