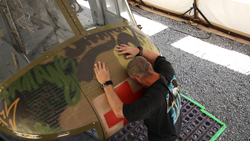 Los Angeles, CA (PRWEB) September 19, 2017
PBS SoCal KOCE, the home to PBS for Greater Los Angeles and Southern California, will premiere the PBS SoCal co-production Take Me Home Huey on October 10 at 7:00 p.m. The Take Me Home Huey documentary broadcast is part of a broader effort to spark a conversation inspired by The Vietnam War by Ken Burns and Lynn Novick.
Take Me Home Huey will air on other PBS stations across the country in October and November (check local listings). The film will also air on public broadcasting's WORLD Channel Friday, October 20 at 6:00 p.m. PT and 9:00 p.m. ET. The Take Me Home Huey documentary is one part of a multi-media art project, and chronicles the transformation of a 47-foot Medevac helicopter from a wounded war bird into a colorful work of art.
Inspired by the 50th Anniversary Commemoration of the Vietnam War, the Take Me Home Huey project includes the actual helicopter sculpture, which has been traveling the country since 2015 to major museums, paying homage to Vietnam veterans and raising awareness for Post-Traumatic Stress. This multi-media project was conceptualized and created by contemporary artist Steve Maloney, who was moved by the number of veterans who take their own lives and his desire to help others heal.
Huey helicopter #174 was acquired and restored by Light Horse Legacy, a non-profit organization focused on supporting veterans with PTSD and a USA Vietnam War Commemorative Partner. Light Horse Legacy delivered the helicopter to Maloney for its transformation, while Dave Barron, co-founder of the organization, uncovered the history of the helicopter and reunited the surviving crew with this vivid work of art that was once their Huey helicopter. Since the project began, Huey #174 has taken on a new life becoming an ambassador of healing and a catalyst for conversations for veterans from all conflicts.
The Take Me Home Huey helicopter sculpture will be on display at a PBS SoCal Vietnam War storytelling event Friday, October 6, at 7:30 pm at the Assistance League Playhouse in Hollywood. The Stories of the Vietnam War event will explore the war from a number of diverse perspectives including those of local veterans who will share their memories of the time.
ABOUT PBS SOCAL
PBS SoCal KOCE is the home to PBS for Greater Los Angeles and Southern California. We deliver the full schedule of PBS programs plus content that is for, about and by the people of Southern California. Our content is available free through four broadcast channels, at pbssocal.org, on our mobile apps, and via connected TV services. And we provide the community with early education resources and cultural and educational experiences through partnerships, events and grassroots outreach. PBS SoCal has offices in Century City, Costa Mesa, and Los Angeles. Connect with us at pbssocal.org, Facebook, Twitter and Instagram.
# # #