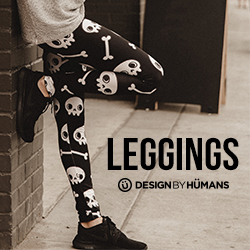 Leggings are a major part of my wardrobe, so I can't wait to see what creative designs will be available. I love the idea of getting to show off a unique look, but still getting to wear leggings all day!
(PRWEB) September 20, 2017
Design By Humans needed a "leg up" and asked its community of artists to submit electrifying designs that could transform boring old yoga pants into the leggings that dreams are made of. Join the DBH team in congratulating the winners and participants of the first ever All Over Legging Design Contest.
The 1st Place winner, AMVO from Guatemala, submitted a unique and eerie design that is perfect for All Hallows' Eve right around the corner! The 2nd Place goes to IngKong from the Philippines, and 3rd Place belongs to Kostolom3000 from Russia. The gifted community of DBH artists has crafted exceptional designs that are a perfect fit to expand the legging collection. Forget about plain old yoga pants; comfort just got a little more exciting!
Everyone understands that leggings are deliciously comfortable, but the DBH artists have turned your secret guilty outfit into something hip enough to be worn as a fashion statement! DBH has granted your wish— like with the "Make A Wish" legging design that shows dandelion fuzz blowing across the front—and combined those two passions: comfort and style, in an exciting All Over Legging Collection. The newest collection offers distinctive patterns that evoke visions of mermaids or evenings spent camping under the moon; while also showing off hilarious designs like dinosaur origami or an all-over cat party. The DBH legging collection offers all over style and vision, without losing the all over coziness factor. Get ready, one leg at a time, to browse the newest collection of All Over Leggings here:
[https://www.designbyhumans.com/shop/womens-leggings-collection/
The Design By Humans team is especially eager about this fun way to share the extraordinary talents of its community of artists. DBH understands that art is a way for artists to express vision, yet it also allows them to find refuge from the hectic world around them. Leggings are a new approach to this expression and DBH is pleased to find a canvas that unites both comfort and artistic vision. Alisa Lopez, the DBH Affiliate Marketing Manager, admits, "Leggings are a major part of my wardrobe, so I can't wait to see what creative designs will be available. I love the idea of getting to show off a unique look, but still getting to wear leggings all day!" Join the DBH team, in awesome style and even more awesome comfort, by checking out the All Over Legging Collection.
About Design By Humans
Design By Humans offers a platform for artists, gamers, and YouTubers to create and showcase their unique artwork as phone cases, wall prints, and fashionable tees, tanks, and more. With 10 years of experience, Design By Humans has woven a shared spirit that thrives on designing vibrant and meaningful art. To learn more about the vision, please visit: https://www.designbyhumans.com/.
DBH works to build an environment that respects collaboration, quality, integrity, and the entrepreneurial spirit. The DBH Collective is inspired by the comical as well as the abstract, the imagined and the concrete; and works to create innovative art that is an expression and a reflection of today's society.
DBH is a team of gaming fiends, cat-enthusiasts, and pop culture fanatics. Most importantly, however, we are a passionate team of independent creators who buzz for the next buzz word, whistle as we work, and create designs that inspire the next generation of trendsetters from around the world.
To become a part of the Design By Humans community and submit designs today, we encourage you to visit: https://www.designbyhumans.com/become-an-artist/ and learn more!
Follow Design By Humans on Facebook at /DesignByHumans, on Instagram at DesignByHumans with #designbyhumans, and on Twitter @DesignByHumans.