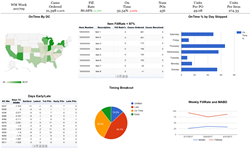 This webinar will help vendors of any scale address what we have found to be the leading causes of low OTIF scores. - Paul Warren, VP, Director of Consulting at Enhanced Retail Solutions
New York, NY (PRWEB) October 03, 2017
Enhanced Retail Solutions (ERS) is a top provider of Retail Analytics and Demand Planning software and consulting to retailers, licensors and their vendor partners, announces a Webinar to help Walmart vendors eliminate errors as well as audit and correct vendor lead times for deliveries.
In the past decade Walmart has made several attempts to increase vendor accountability, gradually tightening the window for orders to arrive at stores and still be considered "on time" and constantly monitoring fulfillment rates. Their new implementation is defined by a switch from previous tracking via "MABD" and "Fill Rate Compliance" to a new acronym representing a combined scoring under the guise of OTIF (On Time, In Full). At the same time they have switched to this new tool, Walmart has again shortened the window of what is considered "On Time".
"These new benchmarks and standards are now live as of August, but it's not too late to get back into compliance", says Paul Warren, VP, Director of Consulting at Enhanced Retail Solutions. "This webinar will help vendors of any scale address what we have found to be the leading causes of low OTIF scores".
The Webinar will be held on Thursday, October 19th from 1:00 PM – 2:00 PM ET. Those interested in rising to the challenge may sign up here to attend.
About Enhanced Retail Solutions LLC:
Enhanced Retail Solutions is a software and consulting firm specializing in retail analysis and demand planning for manufacturers, licensors and their retail partners. ERS' state of the art software tools and consulting deliver critical data quickly, easily and cost effectively, adding over one hundred million dollars to their clients' bottom line. ERS' broad customer base includes industry leaders in the electronics, consumer products, apparel, footwear, home textile, toy, home décor, home improvement, housewares, jewelry and food industries. Headquartered in New York City, Enhanced Retail Solutions has offices in the Dallas, TX and development in the US, Cork, Ireland and Delhi, India. For more information, visit http://www.EnhancedRetailSolutions.com.
Enhanced Retail Solutions is not affiliated with, sponsored by, or endorsed by Walmart Stores, Inc.