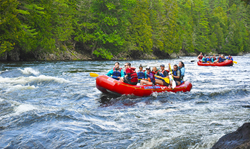 "Camping is a way to have fun with our colleagues and remember that we aren't just coworkers, we are also friends outside of the office," says Haj Carr, TrueLine Publishing CEO.
(PRWEB) September 19, 2017
TrueLine Publishing's 5th Annual White Water Rafting & Camping Retreat, held late August of 2017, received record attendance with 80 percent of the company's employees joining in on the weekend adventure. TrueLine, an international publishing firm located in Portland, Maine, organizes an employee-only rafting and camping getaway each summer in The Forks, Maine, as a chance for the team to bond and get to know one another outside of the workplace.
TrueLine, which was named Best Places to Work in Maine 2017 and 2016, encourages employees to attend the retreat – where rafting is optional, and camping is for everyone. The company rents a full campsite near Moxie Falls where employees enjoy fully-equipped and furnished cabins. Campfires, lawn games, snacks and drinks are provided on-site, giving attendees a truly all inclusive experience.
"Camping is a way to have fun with our colleagues and remember that we aren't just coworkers, we are also friends outside of the office," says Haj Carr, TrueLine Publishing CEO. "Like in any other community or relationship, work requires attention in order to make it fun."
Rafts, life jackets and other essential gear is rented from Moxie Outdoor Adventures Inc., a local provider, and professionally trained guides volunteer their time to bring the TrueLine team down a 12-mile stretch of Kennebec River that boasts class 3, 4 and 5 rapids.
Volunteer guides include Sean O'Reilly, director of professional development at TrueLine Publishing, Lily Hanstein, a branch manager of Gorham Savings Bank at Long Wharf and a recent volunteer at United Way of Greater Portland, and Robert "Bo" Miller, an analyst programmer at Tufts CTSI.
The Annual Retreat was established in 2012 by O'Reilly, who initiated and planned the inaugural event. Today, the retreat is a staple in TrueLine tradition and multiple team members help organize the outing. Hanstein also organizes a similar trip for her branch of Gorham Savings Bank.
"When I worked as a raft guide, I was able to see firsthand how the experience brought each group together," O'Reilly says. "People would embark on the trip as little more than strangers, but come back as comrades after a day of laughing, celebrating, and cowering in fear together. I vowed that I would do my best to create that experience for whatever future organizations I was a part of. I'm thrilled to say that this year was the fifth time we've held the trip at TrueLine and each year has been a success. Each year we've returned to Portland as a tighter, more resilient team than the Friday before."
Company culture is a major influence in TrueLine Publishing's recruiting and retention programs. The company uses employee feedback, as well as insights from review sites such as Glassdoor and Best Places to Work in Maine survey results, to shape, improve and manage company processes, leadership and team collaboration.
TrueLine Public Relations (TLPR), a sister company to TrueLine Publishing, is a result of shared ideas. "The concept of using our experience in publishing, custom media and strategic distribution to help clients improve and execute their own digital marketing came to the table. It made sense and we ran with it. Now we operate a thriving PR firm and are successfully fulfilling contracts for clients across the country," says Erica Berry, director of digital marketing at TrueLine Publishing and director of strategy and media at TrueLine Public Relations.
"Our ideas don't all stem from management. We listen to insights from our team and move forward on the ideas that will benefit our company," Berry continues. "We empower employees by giving them a voice and it leads to greater personal success for them, and a more connected, collaborative company culture."
To learn more about TrueLine Publishing and TrueLine Public Relations, visit online or email Erica Berry at info(at)truelinepublishing(dot)com.