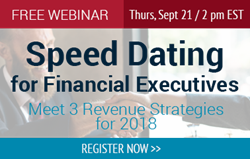 "This webinar is a perfect solution for executives with a limited amount of time who are looking to discover proven strategies for income generation."
LOUISVILLE, KY (PRWEB) September 19, 2017
BSG Financial Group, a provider of revenue-enhancement programs and compliance solutions for financial institutions nationwide, announced today it will host a webinar on Thursday, September 21 at 2:00 p.m. EST entitled, "Speed Dating for Financial Executives: 3 Industry Experts Present Revenue Strategies for 2018." The webinar—which is part of an ongoing educational series that the company provides for its clients and potential customers—will feature a panel of financial industry experts who will present three separate strategies that financial institutions can employ in order to generate new income.
The format of the 60-minute webinar will be fast-paced, with each expert taking no more than 15 minutes to explain a strategy before moving on to the next presenter. Like "speed dating," the objective of the webinar is to give financial executives exposure to as many options as possible in a minimal amount of time. There will also be a Q&A segment after the three presentations.
The webinar presenters are:

Gregory S. Schreacke, CEO, R.C. Giltner Services, Inc., a provider of digital lending technology to community banks
Laura Stanley, Senior Vice President, The CorePoint, experts in CD management and sales
Jeffrey Harper, president, BSG Financial Group, who will address ways to better manage overdraft income and compliance
"This is the time of year when budgeting for 2018—and finding new sources of income—becomes a priority for financial institutions," said Jeffrey Harper, president of BSG Financial Group. "This webinar is a perfect solution for executives with a limited amount of time who are looking to discover proven strategies for income generation."
Harper explained that the presentations will be "high-level" introductions to each strategy, focusing on how each solution capitalizes on today's trends and opportunities, as well as income potential. "Attendees who are intrigued by a strategy are encouraged to ask the presenter for a 'second date' by requesting additional information or arranging a subsequent meeting," he said.
Who: BSG Financial Group
Presenters: Gregory S. Schreacke; Laura Stanley; Jeffrey Harper
When: Thursday, September 21, 2017 at 2:00 p.m. EST
Registration: http://www.bsgfinancial.com/SpeedDatingWebinar
Who Should Attend: Chief Financial Officers; Chief Executive Officers; Chief Information Officers; Chief Credit Officers; Chief Retail Officers; Chief Marketing Officers; Electronic Banking & Digital Banking Officers and Senior Lenders
  
About R.C. Giltner Services, Inc.
R.C. Giltner Services is a provider of digital lending technology to community banks.  He has been a frequent speaker on cloud-based digital technology, including at the recent ABA National Community Banking Conference, BAI Retail Delivery Conference, Sheshunoff CEO Forums, SNL Community Banking Conference, the Bank CEO Network and the ALTLend conference, among others.
About The CorePoint
The CorePoint was launched in 2010 – built by bankers for bankers – and is located out of Omaha, NE. The CorePoint offers a combined approach through strategic and patented processes, frontline training, and a unique technology platform. The company now serves financial institutions across the country and is invited to present at local and national conventions as the expert in CD management and sales. For more information about the company, visit http://www.bank-ps.com.
About BSG Financial Group
Louisville, Ky.-based BSG Financial Group is a group of independently organized companies that provides revenue-enhancement and compliance solutions for financial institutions nationwide. BSG Financial Group has been a provider of innovative overdraft programs since 1999, including the industry's first cloud-based overdraft management solution, Courtesy Connect(R)/Courtesy Limit™.
 
The company's additional revenue-enhancing solutions include: Demand Deposit Account Management; Fee-Based Packaged Checking Accounts; Expense Management & Vendor Negotiation; Vendor Management; Social Media Management; and CD Sales Strategies.
 
BSG Financial Group includes the following companies: CourtesyCloud Management Solutions, LLC; BSG Financial, LLC; and IQ Development, LLC. For more information about the company, visit http://www.BSGfinancial.com.