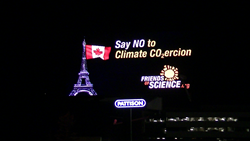 in the mid-1600's unstable climate of the Little Ice Age led to thousands of alleged witches being burned at the stake for 'weather cooking' and causing climate change
Calgary, Alberta, Canada (PRWEB) September 19, 2017
Ecojustice has publicly called for more money for Canada's Competition Bureau to re-open an inquiry into Friends of Science Society, as reported Sept. 11, 2017 in the National Observer, but Friends of Science says there's nothing to investigate, and mainstream media is now commenting.
In a letter dated June 29, 2017, from the Competition Bureau regarding "Projet-Project:3110823" published on-line by Ecojustice in a blog post entitled "Off the Hook" on Aug. 25, 2017, the Bureau states: "At this time, considering the available evidence, the assessment of the facts in this case, and to ensure the effective allocation of limited resources, the Commissioner has discontinued the inquiry."
On Sept. 17, 2017 the Toronto Sun published an editorial entitled "Time to End the Climate of Fear."
The Toronto Sun published a Lorrie Goldstein op-ed on Sept. 13, 2017 entitled "Canada Now Investigates Climate Denial." James Delingpole at Breitbart published an op-ed on Sept. 16, 2017 entitled "Climate Change Skepticism now virtually Illegal in Trudeau's Canada,".
The call for inquiry began Dec. 3, 2015 with the public posting of documents as reported by the National Observer. LINK: nationalobserver.com/2015/12/03/news/breaking-ecojustice-files-complaint-competition-bureau-against-climate-denial-groups
Lawyer Michael Osborne wrote an op-ed for the Financial Post published Dec. 17, 2015, entitled "No Justice in Censorship," indicating that the claims of Ecojustice did not fit the ambit of the Competition Act.
Friends of Science is not a commercial entity and does not represent any industry. The group operates on a budget of $150,000/yr drawn from individual members, as outlined in their Annual Report. LINK: blog.friendsofscience.org/2017/09/15/friends-of-science-issues-annual-report/ Ecojustice taxpayer subsidised revenues are about $6 million according to the Canada Revenue Agency charities listing.
Friends of Science Society says democracy is at stake as there are ever increasing calls to jail those who hold dissenting views on climate science. At the Paris COP-21 event skeptics like Marc Marano and Myron Ebell were depicted in "WANTED" posters around Paris and personally threatened by activists, as reported by the Financial Times, Dec. 11, 2015.
At COP-21 on Dec. 5, 2015, Naomi Klein and Bill McKibben performed "The People's Trial" - a mock trial against Exxon for alleged 'climate crimes' as reported by Alternatives Journal, Dec. 8, 2015. LINK: alternativesjournal.ca/community/blogs/current-events/exxonmobil-trial
The Ecojustice call for inquiry against Friends of Science Society was issued publicly on Dec. 3, 2015 just hours before that event. The National Observer of Dec. 3, 2015 reported: "In its application, Ecojustice states that it believes the case should be referred to the Attorney General as a criminal matter."
In the wake of Hurricanes Harvey and Irma as reported Sept. 11, 2017 in the Washington Times, calls were issued for 'deniers' to be jailed. LINK: washingtontimes.com/news/2017/sep/11/climate-change-activists-want-punishment-for-skept/
Friends of Science says in the mid-1600's unstable climate of the Little Ice Age led to thousands of alleged witches being burned at the stake for 'weather cooking' and causing climate change.
One of Friends of Science billboards states: "Science is about inquiry, not compliance."
About
Friends of Science Society is an independent group of earth, atmospheric and solar scientists, engineers, and citizens, celebrating its 15th year of offering climate science insights. After a thorough review of a broad spectrum of literature on climate change, Friends of Science Society has concluded that the sun is the main driver of climate change, not carbon dioxide (CO2).
Friends of Science Society
P.O. Box 23167, Mission P.O.
Calgary, Alberta
Canada T2S 3B1
Toll-free Telephone: 1-888-789-9597
Web: friendsofscience.org
E-mail: contact(at)friendsofscience(dot)org
Web: climatechange101.ca