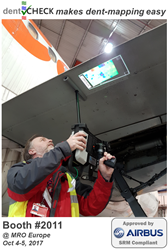 We were impressed with the speed and relative simplicity of 8tree's dentCHECK...We are confident it will prove to be a great benefit to maintenance operations.
(PRWEB) September 18, 2017
dentCHECK from 8tree® is now being used by easyJet, Europe's leading airline, to improve dent-mapping efficiency for its aircraft maintenance operations.
easyJet is using dentCHECK to assess up to 80% of the dent damage that occurs on its fleet and predicts its use could potentially reduce assessment times by a similar amount.
easyJet will also assess damage reworks and submit to Airbus as supplementary information to the current measuring methods. This will be done with a view to help expand the existing scope of Airbus' approval of dentCHECK, to also include measuring of reworks.
"When looking at damage measurement solutions we considered ease of use, flexibility, information provided and cost per unit and carried out a two-day evaluation of the dentCHECK system at our Luton maintenance facility in November 2016 in which we used the system to assess a rework of a passenger window frame following a lightning strike", said Gary Smith, Head of Engineering at easyJet. "Airbus issued notification that dentCHECK had been accepted as an approved tool on the same day and we submitted a tech request, with the full scan data, to Airbus the very next morning."
"We were impressed with the speed and relative simplicity of 8tree's dentCHECK system compared with other available systems and worked closely with 8tree to assist with development of the system to better suit our requirements. The dentCHECK system and the associated I.T. support are currently being integrated into easyJet's maintenance operation for both routine and AOG events. The system has been used on several AOG events to date and feedback from the engineers involved has been positive, stating that it greatly reduces the assessment time and allows easy and quick acquisition of dimensions and report generation."
"We are confident dentCHECK will prove to be a great benefit to maintenance operations allowing easyJet to return aircraft to service more quickly and efficiently, therefore reducing disruption," Smith said. We look forward to further enhancing the system as operational experience increases."
"We are excited to welcome easyJet to the family of dentCHECK users", said Arun Chhabra, CEO, 8tree. "During their diligent evaluation process – supported by 8tree's sales partner G2Metric UK – easyJet shared candid feedback allowing us to make dentCHECK an even more robust purpose-built tool for the aviation maintenance industry. Their adoption of dentCHECK is a strong validation of 8tree's rigorous design philosophy to create highly accurate and efficient inspection tools that empower users of all skill levels with 'go/no-go' answers, not just data. We look forward to enabling easyJet's operations and having them experience 8tree's exceptional customer service".
dentCHECK is the world's only handheld portable and completely wireless 3D scanner to be formally approved and published in Airbus' Tool Equipment Manuals (TEMs) for the express purpose of dent-mapping on metallic aero-structures. Other aircraft OEMs are expected to issue similar guidance in the coming weeks, enabling more airlines to implement dentCHECK to boost their maintenance efficiency.
In addition to the scope of Airbus' TEM publication, dentCHECK at its core, is a 3D dent-mapping and blend-out tool, that delivers 'go/no-go' SRM-compliant answers in seconds -- all with the click of a single button. In previously documented customer case-studies, dentCHECK drastically reduces inspection and reporting times by 90%.
dentCHECK empowers aircraft maintenance operations with first-of-its-kind objective and consistent dent-inspection results. This reduces aircraft Turn-around-Time (TaT), which in turn reduces lost revenues and improves operational efficiency for airlines. dentCHECK enhances safety through an improved understanding of airframe reliability.
About 8tree
8tree makes 3D optical surface inspection tools that solve chronic problems for multiple industries. 8tree's products empower every operator – from mechanics on the floor, to engineers in the lab – with precision measurement, portability and performance. With its patented user-centric product design, instant 'go/no-go' answers and zero-learning curve, 8tree is committed to making precision 3D scanning more broadly accessible – technically and commercially.
About easyJet
easyJet is Europe's leading airline offering a unique and winning combination of the best route network connecting Europe's primary airports, with great value fares and friendly service. easyJet flies on more of Europe's most popular routes than any other airline. easyJet carries over 78 million passengers annually, of which more than 12 million are travelling on business. easyJet flies over 270 aircraft on more than 880 routes to over 140 airports across 31 countries. More than 300 million Europeans live within one hour's drive of an easyJet airport. Innovation is in easyJet's DNA – from our launch almost 20 years ago when we changed the way people fly to the present day where we lead the industry in digital, web, engineering and operational innovations to make travel more easy and affordable for our passengers.