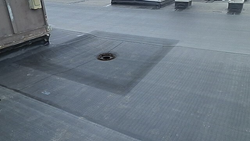 Customers asked for a 4'x4' sump option and we delivered with an innovative product that helps make installation easier, and projects more profitable
Portland, Maine (PRWEB) September 20, 2017
To provide contractors with a faster and easier way to create roof sumps, Hunter Panels introduces its new 4' x 4' Target Sump. The polyiso insulation panel is ideal for low slope applications, ships flat, is ready to install and increases the slope around drains to ensure water will flow to the drain instead of ponding. The 4' x 4' Target Sump's coated glass (CG) facer provides improved dimensional stability, fire performance, resistance to mold growth and is compatible with all major roofing membranes and application techniques.
The new product is Hunter's second sump panel, extending options beyond the company's 8' x 8' hinged target sump. Both sumps are factory assembled and pre-cut for ready installation. They install much faster than cutting insulation on the job site, and eliminate waste, which reduces dumpster fees.
"At Hunter we do whatever it takes to serve our customers," says Jason Greenleaf, technical & tapered design services manager for Hunter Panels. "Customers asked for a 4'x4' sump option and we delivered with an innovative product that helps make installation easier, and projects more profitable."
About Hunter Panels
Hunter Panels, a leading manufacturer of polyisocyanurate (polyiso) insulation, offers a wide range of roof and wall insulation products under the Hunter Panels and Hunter Xci brand names. Headquartered in Portland, Maine, Hunter operates seven state-of-the-art polyiso manufacturing plants in New York, Pennsylvania, Florida, Illinois, Texas, Utah, and Washington. For more information, visit http://www.hunterpanels.com or call 888-746-1114.