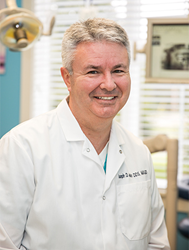 Youngstown, OH (PRWEB) September 20, 2017
New patients with sensitive teeth in Youngstown, OH, due to gum recession are now invited to receive minimally invasive treatment from Dr. Joseph D. Bedich, with or without a referral. Dr. Bedich utilizes the gentle Chao Pinhole® Surgical Technique to quickly treat gum recession at his leading-edge practice located in Cortland, OH.
Many dentists treat gum recession by surgically removing a portion of tissue from the roof of the mouth, surrounding gums, or from a donor source and grafting it into the remaining gum tissue at the recession site. While this technique works for many patients, it is often associated with a lengthy and uncomfortable healing process. In an effort to gently treat gum recession and minimize symptoms associated with the condition, Dr. Bedich offers the Chao Pinhole® Surgical Technique as an alternative to gum grafting. The Chao Pinhole® Surgical Technique is a minimally-invasive solution for patients with symptoms of gum recession, including toothy smiles and sensitive teeth in Youngstown, OH. Instead of removing tissue from one area of the mouth and grafting it into another, the gentle and effective technique relies on a pinpoint access location above the affected teeth that is used to carefully guide the gum tissue over the receded part of the teeth.
Patients who experience common symptoms associated with gum recession, including sensitive or loose teeth, are encouraged to receive treatment right away. Gum recession can eventually cause tooth loss if it is not treated. Those who would like to learn more about the revolutionary Chao Pinhole® Surgical Technique are invited to meet with Dr. Bedich, who is a respected dentist with over 29 years of experience.
Patients with sensitive teeth in Youngstown, OH, and other common symptoms of gum recession, can now visit with Dr. Bedich at his Cortland, OH, practice for a thorough examination and consultation. For appointment scheduling needs, patients are invited to call The Center for Progressive Dentistry at 330-615-1598.
About the Doctor
Dr. Joseph D. Bedich is a general dentist in Cortland, OH offering personalized dental care to patients. Dr. Bedich understands the importance of learning the most cutting-edge techniques, which is why he has taken over 2,500 hours of continuing education in a wide variety of services including sedation, implant dentistry, sleep apnea, cosmetic dentistry and head and neck pain management. To learn more about Dr. Bedich or the services he offers, visit his website at http://www.adazzlingsmile.com or call his office at 330-615-1598 to schedule an appointment.