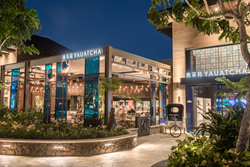 HONOLULU, HAWAII (PRWEB) September 20, 2017
Yauatcha Waikiki, a modern upscale dim sum teahouse by Hakkasan Group, received the distinguished honor of "Best New Restaurant" for Top Write In at the 2018 HONOLULU Magazine Hale Aina Awards.
Yauatcha Waikiki was announced as having the most write in votes for the top honor of "Best New Restaurant" as well as winning the Bronze award for "Best Chinese" in the state on Sunday, September 17, 2017 at the gala reception in the Royal Hawaiian hotel.
"Receiving the people's choice award for 'Best New Restaurant' in the state of Hawaii validates all of the impeccable work our team has put in this year," comments Gert Kopera, Executive Vice President Restaurants Global of Hakkasan Group. "Knowing our guests are the ones who truly gave us this accolade fills everyone with immense pride. We strongly believed that Hawaii was the ideal place for Yauatcha's first U.S. location and we have received such a warm welcome from the local community."
The Hale Aina Awards by HONOLULU Magazine celebrate excellence and innovation in Hawaii's culinary scene, spotlighting a special selection of restaurants each year per the editor's and the people's votes. With a wide variety of island and statewide accolades, the Hale Aina Awards are both the oldest and the most widely respected dining awards in the state of Hawaii.
Opening earlier this year on the third level Grand Lanai at Waikiki's International Market Place, Yauatcha Waikiki continues to enjoy critical acclaim much like the original Yauatcha restaurant in Soho, London. With a refined interpretation of upscale Cantonese, patisserie inspired by European culinary techniques, a carefully crafted cocktail and an innovative tea program, Yauatcha Waikiki has earned a loyal following, attracting locals and visitors alike.
For high-res images, click here.
About Yauatcha
Yauatcha is a Chinese dim sum teahouse offering an all-day dining experience. It launched in Soho, London in 2004 gaining immediate critical acclaim and receiving its Michelin star within a year of opening, which it maintains to this day. Yauatcha City opened in May 2015 following the success of the Soho restaurant. Yauatcha provides a unique dining experience, offering authentic dim sum with a contemporary influence. The menu includes a wide selection of dim sum and a list of over 30 types of tea. Yauatcha is also known for its hand-made petits gateaux and macarons. Yauatcha's innovative cocktail program brings together Asian-inspired ingredients such as tea and lemongrass with fresh tropical fruits. The design offers full view of the kitchens allowing passers-by to witness the preparation of the expertly made dishes. Yauatcha is a part of Hakkasan Group, which has pioneered Chinese fine dining globally through its Michelin-starred Cantonese restaurants Hakkasan, HKK and Yauatcha. Yauatcha also has four restaurants in India; Mumbai, Bengaluru, New Delhi and Kolkata, and is launching in Houston, Texas in March 2017 and Saudi Arabia in 2018.
About Hakkasan Group
Hakkasan Group is a worldwide hospitality company with establishments across the United States, Europe, Middle East and Asia. Its namesake is taken from its Michelin star restaurant that set the high-level standard for the group's collection of diverse brands. Its 'brand first' philosophy builds restaurant, nightlife, daylife and soon-to-be hotel concepts into world-class hospitality brands, all with a focus on service, design, innovation and experience.
Its restaurant portfolio includes Hakkasan, with 11 locations worldwide, Ling Ling, Yauatcha, HKK, Sake no Hana, Herringbone and Searsucker. Under the nightlife/daylife umbrella of brands are Hakkasan Nightclub, Wet Republic, OMNIA and Jewel.
Hakkasan Group is fully owned by Alliance International Investments LLC, an investment company based out of Abu Dhabi. For more information, visit http://www.hakkasangroup.com.
About International Market Place
Located in the heart of Waikīkī, International Market Place is a world-class shopping, dining and entertainment destination featuring a curated mix of upscale and lifestyle brands, and the first Saks Fifth Avenue in Hawai'i. The shopping center is open from 10 a.m. to 10 p.m. daily. Operating hours for restaurants will vary. For ease of access, the center provides 700 parking spaces and convenient valet parking. For more information, visit shopinternationalmarketplace.com and in Japanese ja.shopinternationalmarketplace.com.