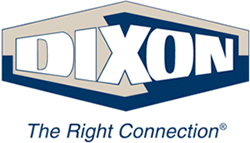 Chestertown, Maryland (PRWEB) September 19, 2017
Dixon Valve & Coupling Company, a leading worldwide manufacturer and supplier of hose fittings and accessories, is very active in the field of LNG shipping and transport. As part of its commitment to the field, Dixon is now providing cryogenics training.
The first training course was held on September 6-7, 2017 at the Dixon Innovation Center in Chestertown, MD. Dixon engineering and operating professionals were enrolled in the course, along with attendees from the U.S. Coast Guard (USCG), as well as two agencies of the U.S. Department of Transportation – the United States Maritime Administration (MARAD) and the Pipeline & Hazardous Materials Safety Administration (PHMSA).
The first day of the training course covered a range of topics including cryogenic fluids and properties, cryogenic materials, and basic pressure component design principles. On Day 2, course participants explored the cryogenic design of valves including a rigorous focus on performance requirements, testing, and operating maintenance.
The cryogenic training course was emceed by Jim Shifrin, Dixon's director of new product development and innovation, with course training provided by David-John Roth.
One of the industry's leading specialists in the field of cryogenics, Roth is the owner and lead instructor of CRYOCO LLC, a company that has trained nearly 5,000 engineers and operators of cryogenic systems at NASA, the U.S. military, and various aerospace and other commercial companies.
A designated Subject Matter III Expert in the field of cryogenics, Roth was the recipient of the Cryogenic Design & Development Award presented at NASA headquarters in 2012. In addition to his teaching activities, Roth continues to provide cryogenic expertise for NASA at the Kennedy Space Center, as well as offering training for the emerging LNG sector.
Commenting on the success of Dixon's cryogenic training activities, Shifrin reported, "We're pleased to offer cryogenic training to not only our own engineers, but also our industry colleagues at the USCG, PHMSA and MARAD. We work closely with these agencies on a variety of endeavors, including establishing and promoting industry 'best practices' in the use of cryogenic couplings in LNG gas transport systems." Dixon works with many of these agencies and individuals to set standards and create specifications through our involvement and contributions to ASTM, CTAC and the AAR TAG for LNG tender cars committees.
For more information about cryogenic training coursework offered by Dixon, contact Jim Shifrin at 443-282-2021 or visit dixonvalve.com/cryogenics for information on Dixon's cryogenic products.
Dixon is a leading manufacturer and supplier of hose fittings, fluid control products and accessories. The company serves a broad range of industries – including the agricultural, chemical, construction, fire prevention and suppression, food and beverage, industrial, mining, petrochemical and pharmaceutical segments – by offering the industry's most comprehensive product line available from a single source.
Established in 1916, Dixon celebrates over a century of Uncommon Excellence™ in supporting its customers and making industry run better.