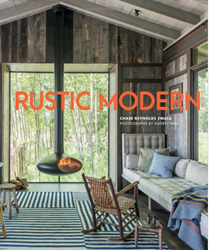 The architecture of the rustic modern movement collaborates with the landscape; they are partners.
Bozeman, Montana (PRWEB) September 20, 2017
A new book documenting a Western design trend through stunning photos of 15 luxury homes across four states includes three residential projects by leading Mountain West architecture firm JLF Architects, headquartered in Bozeman, Montana, and Jackson Hole, Wyoming. Recently released by publisher Gibbs Smith, "Rustic Modern" was written by Chase Reynolds Ewald with photography throughout by Audrey Hall.
The book's selection of featured homes resound with customized details – as well as an inherent connection to nature. "The architecture of the rustic modern movement collaborates with the landscape; they are partners," writes Reynolds Ewald. "It boldly employs materials that combine the organic with the cutting edge; it celebrates interiors that are clean, unfussy, and uncluttered; and it revels in the transitions between indoors and out that seamlessly blend the two."
No stranger to this movement, the award-winning design-build team of JLF Architects and Big-D Signature created three of the private residences anchoring the book. The structures – which include the project that won the team Mountain Living magazine's 2016 Home of the Year award – redefine homestead roots, reinvigorate regional vernacular and use reclaimed building materials with integrity.
A Jackson, Wyoming, project featured in the chapter "Glass & Stone Homestead" heralds a fearless application of architecture's most modern feature – a floating glass staircase – in a house that is otherwise classically constructed of regional stone, hewn beams and gabled roofs. Yet the blend of traditionally rustic materials with a precision-engineered element cedes to a modern design that is rooted in the landscape but inspired by a broader world.
Two additional Jackson Hole projects spotlight JLF Architects' commitment to sustainability and timeless design. Both resonate with the rugged beauty of the Teton Mountains, while expressing the personalities of their inhabitants through architectural features that brush on agricultural roots, as in a minimalist staircase that echoes the form of a grain silo, or in the interconnected embrace of a mountaintop house that adjoins a series of structures to scale potentially voluminous square-footage into livable spaces.
Noting that many of the best examples of the rustic modern design trend have been conceived by architects and builders in the Rocky Mountain West, author Reynolds Ewald lauds the approach of JLF Architects for leading the architectural movement from the simplicity and historical context of the iconic log cabin to the contemporary vision of structures that respond to their natural environment.
"Architecture does contribute so much to sense of place," JLF principal Paul Bertelli is quoted in the book as saying. "It can't just be nostalgic, though. It has to have some honesty in the twenty-first century. But it can still have that truth within a romantic context."
As one of only nine featured architectural firms, JLF Architects' projects, constructed with design-build partner Big-D Signature, represent what the new book establishes as an American architectural tradition.
"Another coup for Chase and Audrey," says JLF principal Paul Bertelli of the book's author and photographer. "'Rustic Modern' is their latest work of art shining a light on the region's built environment. It is a joy to be included in the charm and grace these two bring to the printed page."
"Rustic Modern" is a follow up to the author/photographer duo's previous title, "Mountain Modern" (Gibbs Smith, 2015), and a milestone that solidifies the evolving language of architecture and design in the American West. The new book lists for $50 and is available at bookstores and online.
About JLF Architects:
Building timeless structures rooted in integrity and simple elegance, Jackson Hole and Bozeman-based JLF Architects applies distinctive solutions and materials to create place-based houses marked by the influences of landscapes from the Rocky Mountains to the Eastern Seaboard. Their award-winning perspective is powered by inspired design and an exacting eye for placement, an ethos that stems from a unity of nature, beauty, balance and imagination. JLF Architects has established a genuine alliance with Big-D Signature construction, built over 17 years of working together, to create a streamlined design-build process that benefits clients. Winners of Mountain Living magazine's 2016 Home of the Year, the JLF Architects and Big-D Signature design-build team unites passionate architects with dedicated builders to enable the collective imagination of visionary artisans working with visionary clients. For more information visit http://www.JLFArchitects.com.
Contact: Seabring Davis, Word PR + Marketing, seabring(at)wordprmarketing(dot)com, 307.734.5335