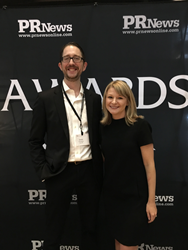 New York, NY (PRWEB) September 20, 2017
Kite Hill PR LLC, a New York-based strategic communications and media relations agency, has been named a finalist for Small PR Firm of the Year in the PR News Platinum and Agency Elite Awards. The company was recognized for its rapid growth in 2016/17, making significant additions both to its client list and staff roster.
"We're thrilled to be a Small PR Firm of the Year finalist. This recognition tops off what has been a remarkable year for the agency," said Tiffany Guarnaccia, Founder and CEO, Kite Hill PR and Founder of Communications Week. "2017 is the year of the specialist PR firm, and Kite Hill PR has become the go-to agency in our core business sectors."
Kite Hill PR serves clients across the U.S. and EMEA in four main business verticals: Advertising & MarTech, Media & Publishing, Entertainment and B2B Technology. In addition to seeing continued growth in martech, Kite Hill PR signed new B2B AI and SaaS platforms, adding to its client roster.
In 2017, Kite Hill PR also added key team members to its New York team, welcoming industry veteran James Nicholson as VP. With multinational experience leading strategic communications initiatives for major technology, industrial and B2B brands, Nicholson plays a main role in driving operations and campaigns forward. Sylvie Calman and Palmer Roberts also joined as Account Managers, both bringing extensive experience in emerging tech PR to the team.
Guarnaccia attributes the agency's growth to its unique approach to client management, which centers on transparency and authenticity in all communications. Account teams engage with clients on a deeper level, not merely representing them, but rather acting as an extension to their business. The agency also expanded its content division, Kite Hill Content studio and its events division, Kite Hill Experiences.
Earlier this year, Kite Hill was named as one of the top Tech PR agencies in New York by The Observer's - New York's Top Specialty PR Agencies. Guarnaccia was also honored by PR News as a 2017 Top Women in PR.
# # #
About Kite Hill PR
Kite Hill PR LLC is a New York-based strategic communications and media relations agency. The company offers a high-touch, integrated approach to communications, content production and events. Kite Hill PR is also the organizer of Communications Week, a weeklong series of educational and social events created for the media, communications and marketing industries. For more information, visit kitehillpr.com.