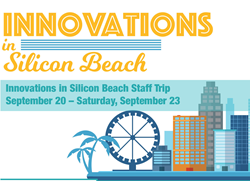 The technological innovation we're witnessing is poised to send shockwaves through every facet of society.
LOS ANGELES, CA (PRWEB) September 20, 2017
Dogtown Media, ranked #271 overall on Inc's Top 500 list of America's Fastest Growing Private Companies, and 18th in the software development category, is the first stop on a 2-day innovation tour for political leaders from around the country, facilitated by the DC public policy group, ACT | The App Association. The event, co-hosted by TasteMade, Cross Campus and other technology leaders, begins Thursday, September 21st, 2017, covering issues that impact tech-centric businesses, the mobile app economy, and every household in America.
Marc Fischer, CEO of Dogtown Media, contends that, "the technological innovation we're witnessing is poised to send shockwaves through every facet of society. The effects are being felt with breakthroughs in artificial intelligence, connected devices, and the ever-evolving mobile technology landscape shifting our economic environment and daily lives. Our nation's political and business leaders have a limited timeline to come together and overcome the challenges ahead of us."
Twenty seven political leaders from across seven congressional districts will be in attendance as well as representatives from 5 federal committees, including; the House Judiciary Committee, House Ways and Means, Senate Help Committee, House Energy and Commerce, and House Science and Small Business Committee. Attendees will be briefed on topics such as how artificial intelligence will shape our future, why cybersecurity breaches like the Equifax hack continue to happen (including a live demo of the Equifax hack), and how design thinking and behavioral psychology influences the way we consume technology.
Gartner Inc. predicts that, "8.4 billion connected devices will be in use worldwide this year, up 31 percent from 2016, and will reach 20.4 billion by 2020. Total spending on IoT endpoints and software services will reach almost $2 trillion in 2017." The hyper-expansion of technology into our daily lives necessitates the need for policymakers and high-tech visionaries to join in the endeavor for a more prosperous and innovative future.
Leveraging design thinking strategies and best-of-breed engineering techniques, Dogtown Media, is a mobile app developer, creating cutting-edge technologies for venture-backed startups and innovative enterprise companies. Technologies of focus include wearable devices for mHealth, FinTech solutions, smart home automation, and enterprise IoT applications.