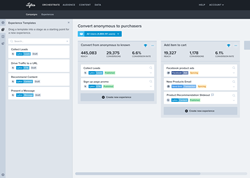 Lytics' ability to orchestrate marketing campaigns based on each individual consumer's lifecycle and past interactions is paramount to Heineken USA moving forward." - Bram Reukers of Heineken
Portland, Ore. (PRWEB) September 20, 2017
With the goal of more relevant marketing, the customer data platform (CDP) has recently emerged to break down the "silos" of customer data (e.g., email subscriber interactions, website visitors, mobile engagement, etc.) created by competing marketing-technology vendors. Now, the customer data platform has a new opportunity: create one marketing canvas to orchestrate truly cross-channel marketing campaigns. Today, Lytics announces the first customer data platform to seize this opportunity with Orchestrate, a new product for understanding and activating customer data to conduct more relevant marketing. With Lytics, marketers no longer have to log into multiple marketing systems to create cross-channel customer journeys; instead, Lytics customers can orchestrate coordinated campaigns from one dashboard.
Steve Lok, The Economist Group's global head of martech and ops, is a sought-after speaker at marketing-technology conferences and had early access to Lytics Orchestrate. "At The Economist we've long known that a customer data platform is the ideal hub for marketers to finally be able to orchestrate their initiatives across channels and platforms," said Lok. "With Lytics Orchestrate, we expect not only to continue to increase subscription revenue, but also to create a real nexus to leverage our sophisticated martech ecosystem. I'm really, really excited about these new capabilities."
Nearly all customer data platforms integrate with third-party marketing tools to first collect user behavioral data (e.g., email clicks, website visits, purchases, etc.), and then create user profiles (and audience segments) with that data that feed back into those third-party marketing tools to improve their targeting capabilities. Yet, these customer data platforms still force marketers to log into countless marketing tools to do 90 percent of their work. Lytics takes the customer data platform concept beyond "neutral data-activation hub" to allow marketers to do more campaign work in the UI:

Centralize marketing-technology campaigns in one location for better understanding, collaboration and action. Before Lytics Orchestrate, CDP vendors forced marketers do most of their work such as measurement in their various martech tools (e.g., Facebook Ads, SendGrid email, etc.).
Align marketing tactics to business goals. For example, a Lytics Orchestrate user could align a Facebook Ad (encouraging known users to add an item to their shopping cart) to the business goal of converting known users to purchasers.
Visually track in the CDP's user interface customer journeys as they move from one stage to another (e.g., "unknown website visitor" to "newsletter sign-up" to "purchaser") across marketing tools (e.g., SendGrid, Facebook Ads, etc.).
Easily drag and drop campaigns to manage and prioritize initiatives (e.g., Prioritize Halloween-themed personalized recipe in October over a daily promotion on the website) to avoid overlapping conflicting digital campaigns. 
Access an intelligent orchestration canvas that is integrated and designed with Lytics' unique machine-learning technology – e.g., predictive segments and content recommendations – for users of customer data platforms.
Heineken's Director of E-Commerce Bram Reukers had this to say about the announcement: "Lytics has helped Heineken USA to capture and leverage customer data from all of our online and offline initiatives such as events, sweepstakes, e-commerce sites, and brand sites we run. Lytics' ability to orchestrate marketing campaigns based on each individual consumer's lifecycle and past interactions is paramount to Heineken USA moving forward."
In addition to internal marketing departments, marketing agencies are also adopting Lytics' new Orchestrate product. "Both as an agency and venture partner for Fortune 1000 clients, we see a lot of martech vendors trying to tackle the orchestration challenge from different angles," said Nick Coronges, global CTO of R/GA. "By putting the customer data platform at the center of the stack, Lytics gives brands the ability to easily orchestrate end-to-end, data-driven experiences for their customers."
AnnMarie Wills, former publishing-industry customer and now a principal of Lytics agency partner Leverage Lab, said, "As early users of customer data platforms, we predicted that these neutral hubs would be ideal for orchestrating marketing campaigns across many tools. As an innovator in the industry, it's no surprise that Lytics is the first CDP to evolve its platform for orchestration." 
Lytics Orchestrate is available for purchase by customers. To learn more about Lytics and its products from a company representative, please visit https://www.getlytics.com/#request-demo. To read more about Orchestrate, please visit https://www.getlytics.com.
About Lytics 
Lytics helps companies orchestrate more relevant experiences with consumers through the industry's only enterprise-grade customer data platform (CDP). Innovative companies such as Heineken, Nestle, The Economist Group, and Atlassian use Lytics to execute one-to-one marketing programs with machine learning. Lytics is headquartered in Portland, Ore. Learn more at http://www.getlytics.com.
###