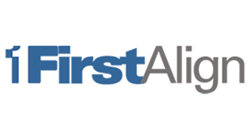 We are excited about the launch and the robust information the site provides for customers and partners.
CHARLOTTE, NC (PRWEB) September 20, 2017
FirstAlign (http://www.firstalign.com), combines strategies and technologies for Transformation and Centers of Excellence (CoE) with the latest Artificial Intelligence (AI) thinking, announced today the launch of its revamped web presence.
The newly designed presence offers quick and easy access to essential information that offers a more comprehensive understanding of the organization's business and machine learning solutions.
The site has a clean uncluttered design, improved features and functionality, alongside rich content focused on FirstAlign's core mission and beliefs. The aim is to maximize human potential, using Artificial Intelligence to make a difference by improving the way the world works.
"We are excited about the launch and the robust information the site provides for customers and partners," explained FirstAlign's Corporate Relations Executive, Marquis Benton. "We believe our new site will enhance visitor experience as we grow and increase our market presence."
FirstAlign's new website will continue to be updated on a regular basis with product and service enhancements, business activity, events and industry related information.
Visitors are encouraged to explore and sign up for direct information at http://www.firstalign.com/about/contact.php.
About FirstAlign
Not Just Knowledge, Know How. FirstAlign helps organizations innovate, transform, and lead. If you don't influence change, who will? FirstAlign enables you, your team, and your organization to lead with targeted tools supported by a creative, seasoned and diverse group of professionals. We work across major industry sectors, public companies, Fortune 2000 and government authorities, utilizing startup mindsets in making complexity simple. Customers count on FirstAlign's strategic advisory services and target operating models, to help them transform uncertainty into opportunity.
For more information, please visit http://www.firstalign.com and/ or contact (646) 233-2555.
Related Links
http://www.firstalign.com