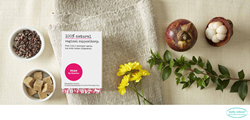 Pure natural products are must-haves, not nice-to-haves, for women over 35.
Toronto, Ontario (PRWEB) September 21, 2017
Working with kathy ireland® Health & Wellness, Damiva is expanding nationally into Cardinal Health's consumer health division serving thousands of independent pharmacies. Damiva's product line of 100% natural feminine hygiene products are now available in all Cardinal distribution centers across the U.S. in addition to select Target and CVS drugstores.
Women in need of new natural products for vaginal dryness can now buy the pioneering Damiva product line at independent and specialized hospital, gynecology, oncology and other clinic pharmacies across America.
Mae by Damiva, the vaginal suppository, is formulated for long-term vaginal health. Cleo by Damiva is a labial skin moisturizer that complements Mae. Both products are designed for feminine dryness associated with birth control, childbirth, hysterectomy, cancer and menopause.
"All of us at kathy ireland® Worldwide and Level Brands congratulate Chia Chia and Damiva on this incredible launch," says Kathy Ireland, Chair, CEO and Chief Designer of kathy ireland® Worldwide, and Chairman Emeritus and Chief Brand Strategist of Level Brands. "This important expansion into Cardinal Health is an important step in fulfilling one of our Millennial Development Goals -- a fierce and fearless commitment to change the landscape for women's health. We salute Cardinal Health for helping us achieve this goal, and for joining us in disrupting the women's product industry by making these natural and groundbreaking women's health products available to their customers."
Chia Chia Sun, CEO, says, "We're extremely grateful to Cardinal Health and our buyer, Joseph Rudy, for recognizing the innovation behind Damiva's products and their importance to women of all ages. Working with kathy ireland® Worldwide and Level Brands on the Millennial Development goal of dramatically changing the landscape of women's health is a game changer for women and for Damiva."
Damiva products are sold on the feminine hygiene shelf in drugstores and are recommended by physicians, pelvic health experts, and oncologists across North America. The products are optimized for pH and scientifically formulated to be all natural. They contain a handful of natural, plant ingredients instead of hormones, chemical preservatives and alcohols.
For more information on this breakthrough product line for women's health, please visit: http://damiva.com/. See product information at: http://damiva.com/mae-vaginal-moisturizer/ and http://damiva.com/cleo-feminine-moisturizer/.
About Damiva Inc.
Damiva Inc. (http://www.damiva.com) develops, manufactures and distributes innovative natural products for women, and sells coast-to-coast across North America. A pioneer in the women's health space, Damiva was founded to create new products – made for women by women – that address important medical needs.
About Level Brands, Inc.
Level Brands creates bold, unconventional and socially responsible branding for leading businesses, with a focus on corporate brand management and consumer products marketing art, beauty, fashion, health & wellness, travel and entertainment. Licensed brand marketing is at the core of the Level Brands' businesses: Ireland Men One, or I'M1, for millennial men and the women who love them; Encore Endeavor One, or EE1, corporate brand management and producer of experiential entertainment events and products across multiple platforms; Beauty & Pin-Ups, Level Brands' hair care and disruptive women's products brand. For more information, please visit: http://LevelBrands.com.
About kathy ireland® Worldwide (kiWW®)  Kathy Ireland is listed as one of the most powerful brands in the world by License Global Magazine. According to Fairchild Publications, Kathy Ireland is one of the 50 most influential people in fashion. Kathy graces the cover of Forbes Magazine twice (2012, 2016). Kathy and her companies support many non-profits including: YWCA Greater Los Angeles for which she is an Ambassador, Dream Foundation, Providence Educational Foundation, 911 for Kids/AEF, and the St. Jude Children's Research Hospital. Kathy is named an Ambassador for the Elizabeth Taylor AIDS Foundation.
Contact:
Press Inquiries for Damiva Inc:
President
Gardiner Smith
304-982-1240
gardiner(at)mydamiva.com
Press Inquiries for Level Brands:
Susan Roush
805.624.7624
PR(at)LevelBrands.com
Press Inquiries for Kathy Ireland® and kathy ireland® Worldwide:
Rona Menashe
310.246.4600
rona(at)guttmanpr.com