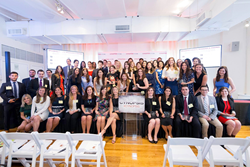 (PRWEB) September 21, 2017
New York, NY (September 21, 2017) - The best and brightest media industry pros, age 30 and under, filled Manhattan's Midtown Lofts last Friday, September 15 for the  3rd annual Cynopsis Rising Star Awards. The event recognized 77 young people for their drive and outstanding work in media. View the post-event webpage listing all the honorees, including headshots and descriptions, here. 
Prior to the ceremony's start, attendees gathered for drinks on the venue's rooftop terrace, which featured breathtaking views of the Empire State Building (click here for photos).
During the acceptance remarks, many of which were received with applause and enthusiastic hoots of approval from the audience, one honoree joked that if she could be a TV character, she'd choose Top Chef judge Padma Lakshmi. Megan Cotter of Discover Communications remarked that she wished she could combine "Leslie [Knope]'s passion with Ron Swanson's appreciation of a good scotch," both character from NBC's Parks and Recreation. Joann Park of Turner said that in ten years she sees herself "leading content strategy and telling stories of people who've been overlooked, so no one feels invisible." Samantha Fenimore of one2one Media hopes to be in "a position where I'm learning something new every day and feel excited about the industry - like I am today." Diane Fabrizio of Zenith said she dreams of being CEO of a Fortune 500 company, and is committed to being an equal opportunity employer. 
Congratulations to all of the 2017 Rising Star Honorees: 
Anja Adžić - Sizmek
Kelly Andersen - MTV, VH1 & LOGO
Jenna Anthony - ESPN
Thomas Atkins - R&R Partners
Allison Baker - Discovery Communications
Susana Baker - Univision Communications Inc
Selam Belay - 135th Street Agency
Whitney Bell - Smithsonian Channel
Ned Berger - Nickelodeon
Paige Bonanno - ABC
Jackie Booth - DraftKings
Katrina  Bucu - Viacom Velocity
Ty Budde - Fullscreen
Rachel Burns - Viacom Velocity
Dani Calogera - 360i
Suzanne Chalet - Turner
Louise Chapman - Boingo Wireless
Elizabeth Cieszko - NBCUniversal
Haley Clarke - Litton Entertainment
Andrew Cohn - Advantage
Megan Cotter - Discovery Communications
Matthew Crane - Turner
Kerrilyn Curtin - LPGA
Zach Deckler - Scout Sports and Entertainment
Kassie Deng - Viacom
Ashley DesChamps - Litton Entertainment
Michael DeSimone - Horizon Media
Sara DeViney - MediaCom
Adam Donaldson - Bleacher Report
Suzanne Eckl - Smithsonian Channel
Danielle Fabrizio - Zenith USA
Cara Feeney - Innovid
Samantha Fenimore - one2one Media
Steven Giampiccolo - Maxus
Ashley Griffis - The Jim Henson Company
Lyndsey Grubbs - Discovery Communications
Michelle Hinchey - EPIX
Ashley Insalaco - truTV
Anthony Izzo - NBCUniversal
Brittany Kenndy - Aspire TV
Lena Kravitz - Sizmek
Vikram Kulkarni - Nielsen
Lauren LaCorazza - Healix
Erin Lim - E! Entertainment
Sklyer Logsdon - Tatari, Inc.
Miguel Lorenzo - Telemundo
Anita Mahadik - Smithsonian Networks
Jelena Manevska - Sizmek
Édgar Martínez - Univision Deportes
Marisa Mazart - Nickelodeon
Katla McGlynn - Katla McGlynn
Liane Nadeau - DigitasLBi
Sara Navaridas - Nielsen
Meredith Nelson - Zenith USA
Joann Park - Turner
Alex Proujansky - Horizon Media
Anna Rogers - Anheuser-Busch InBev
Brittany Rollheiser - Mindshare
Zach Rosen - Index Exchange
Michael Rosen - Tough Mudder
Jennifer Schuster - WGN America and Tribune Studios
Alex Shipper - Turner Sports
Peter Showalter - Boingo Wireless
Wright Sibbald - Discovery Communications
Kristina Stafford - UP TV and Aspire
Jennifer Sun - Dotdash
Nikki Suseck - Discovery Communications, Inc.
Brielle Urssery - BET Networks
Maria VanBuskirk - Maxus
Maria Vera Whelan - PBS KIDS
Jacqueline Vinci - Viacom Velocity
Scott Walker - Zenith USA
Nicole Winter - Maxus
Alexandra-Rose Woog - Viacom Velocity
Christina Yeotsas - Crown Media Family Networks
Alyssa Zeleznik - Home Team Sports
Ariel Zuckerman - LeadDog Marketing Group
Save the date for the 2018 Rising Star Awards program: the call for entries will open in May 2018 with deadlines in mid-June 2018. The awards event will once again take place in September in New York City. 
About Cynopsis Media: 
Cynopsis is what the TV industry reads first every day. The Cynopsis family of products includes the media industry's most-read daily, Cynopsis, plus sister dailies Cynopsis Digital and Cynopsis Sports, the Cynopsis Jobs board and special reports. Serving TV, agency and brand professionals, Cynopsis Media produces conferences, webinars, and awards programs that are second to none. Find out more at cynopsis.com.