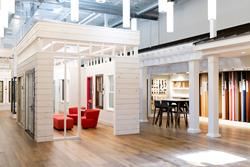 Marvin Windows and Doors have evolved to a point that we needed to present them in a whole new way.
Chelsea, MA (PRWEB) September 21, 2017
Marvin windows and doors have the power to transform a room and nowhere is that more evident than at JB Sash & Door's brand new Marvin Window and Door Showroom in Chelsea, Massachusetts.
"Our retail partnership with Marvin Windows and Doors goes back more than two decades," said Rick Bertolami, co-owner of JB Sash & Door. "Their products have evolved to a point that we needed to present them in a whole new way and this 3,000-square-foot space has been designed to do just that."
"The two-story showroom allows our customers to enter right inside our front door or from our offices upstairs," added Rick's cousin and JB Sash co-owner Ron Bertolami. "When you enter the space, it's a real 'wow' with beautiful installations of the products in every direction and a feeling of being both inside and outdoors."
According to the Bertolamis, they wanted to create a whole new way to explore how windows can feel inside a home. As a result, the space offers seating areas where customers can discuss their vision of how a room will be used, how they want the light to fill the space and what kind of connection they want to make between their interior and the beauty outdoors.
The one-of-a-kind showroom includes a Marvin Windows and Doors Personalization Station. Here a visitor begins an exploration of the many ways windows and doors can be personalized to reflect their lifestyle. A giant "dream board" offers paint and stain colors, exotic hardware styles and finishes, an array of different types of glass and integrated shade options that inspire the visitor's home design imagination. Just steps away, there are two freestanding rooms - referred to as "pavilions" - that are designed to reveal the actual installation of different windows and doors to inspire freethinking.
The Marvin Windows and Doors Pavilion
In the Marvin Windows and Doors Pavilion, visitors are treated to actual installations of five styles of windows including Marvin's iconic Corner Window. The space shows a sliding door, French door and nine different types of glass that might be employed to create different looks. "We wanted to offer a real example of how contemporary style versus traditional style is expressed through windows and doors," said Rick Bertolami.
The Integrity Pavilion
In the adjacent Integrity Pavilion, visitors are introduced to Ultrex®, an innovation pioneered by Marvin that is constructed of a material eight times stronger than vinyl. One square inch of this state-of-the-art material can support 34,000 pounds, more than the weight of two monster trucks. The Integrity Pavilion offers homeowners the opportunity to compare windows that are all Ultrex with those that are striking wood on the interior and Ultrex on the exterior, protecting the outside finish where the weather impacts the life of your windows most.
In the rear of the new showroom, a replacement window showcase inspires homeowners to think about replacement windows in a whole new way. "It's one thing to look at replacement window styles in a catalogue or online," said Ron Bertolami, "but here you will see that replacing a window is not about simply swapping out what you have, but rather an opportunity to actually change the look and feel of your home. The many style and material options afforded by Marvin and Integrity replacement windows are really brought to life in our new showroom and we're very excited to share this side-by-side comparison."
For those keen on creating something truly different, the Marvin Signature Services samples in the new showroom exemplify Marvin's determination to produce one-of-a-kind solutions for any window or glass door vision. When the art and engineering of Marvin's Signature Services are coupled with the capabilities of J.B. Sash's singular in-house paint booth, the options are limitless.
For more information on JB Sash's new Marvin Window and Door Showroom, visit jbsash.com/marvin.
About JB Sash and Door
JB Sash and Door is a family owned company built on 75 years of expertise in the production of historically correct wood windows and doors. Based in Greater Boston, the company has helped restore windows and doors for significant landmarks including The House of Seven Gables, John Quincy Adams' House, Faneuil Hall, Fenway Park and the Baseball Hall of Fame in Cooperstown, NY. JB Sash and Door is the largest Marvin Window and Door retailer in Greater Boston, serving architects, contractors and homeowners. Learn more at jbsash.com
About Marvin Windows and Doors/Integrity Windows and Doors
Since 1912, Marvin Windows and Doors has been a family owned business dedicated to quality and innovation. This industry leader in product design and function still makes each window to order, one at a time, to meet the customer's exact specifications. The company's unparalleled customization capabilities, exclusive innovations, high-performance energy efficiency options and personal service all combine to offer the finest windows and doors in the building industry. Integrity windows and doors, manufactured by Marvin, are made with Ultrex® pultruded fiberglass. For more information, visit marvin.com.