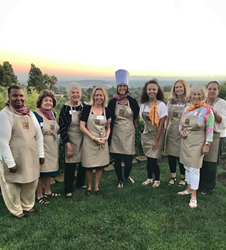 SAN DIEGO, CALIF. (PRWEB) September 21, 2017
Lajollacooks4u welcomed the San Diego chapter of Les Dames d'Escoffier International into its kitchen earlier this month. The organization, a worldwide society of professional women with high achievement in the fields of food, fine beverage and hospitality, was looking for a venue to hold its annual dinner.
Twelve members began with an olive oil tasting to whet their palettes and then rolled up their sleeves and got down to business in the kitchen. Together, they prepared a locally sourced Opah fish with a spice crust, made with cumin, mustard seed, fennel and smoked salt, and topped with a ginger yogurt sauce. The second course was roasted cauliflower steaks with sunchokes, followed by chocolate salami, complemented by figs from the Lajollacooks4u garden.
Chef Jodi Abel, a Les Dames member for four years and owner of Lajollacooks4u said, "This was such a fabulous evening, one filled with good laughs, good food and great company. What a perfect way to celebrate each other, as well as a tremendous organization!"
Les Dames d'Escoffier is the only organization of its kind, with its members ranging from chefs, restauranteurs, caterers and food editors, to wine merchants, chocolatiers and bakers. Each individual has at least five years' professional experience in her field, and membership is by invitation only. For more information about Les Dames d'Escoffier, visit http://www.ldei.org/.
About Lajollacooks4u:
Lajollacooks4u, founded in 2008, provides a unique culinary experience for corporate cooking challenges and special events in a magnificent setting overlooking the Pacific Ocean. Based in La Jolla, California, Lajollacooks4u has enjoyed record growth since its inception and has been ranked as the top in its category by the popular travel review site, Trip Advisor. Chef Jodi Abel also recently released her cookbook, Lajollacooks4u: California Cuisine, an accumulation of the favorite recipes her guests have been raving about. For more information about her cooking events, as well as her cookbook, please contact jodi(at)lajollacooks4u(dot)com.