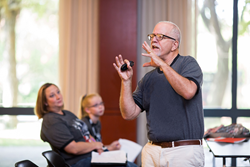 Overland Park, Kansas (PRWEB) September 22, 2017
As part of its continued effort to be the leading resource for yearbook advisers, Walsworth Yearbooks has announced its hiring of Special Consultant Jim Jordan.
Jordan is renowned among yearbook advisers. He recently retired after 35 years as the adviser for the award-winning Decamhian yearbook at Del Campo High School in Fair Oaks, California. During his tenure, the yearbook won 13 Gold Crown awards from the Columbia Scholastic Press Association and 19 Pacemaker awards from the National Scholastic Press Association. Jordan was named the 1996 Yearbook Adviser of the Year by the Journalism Education Association. He has also been awarded the Gold Key by CSPA, the Pioneer Award from NSPA and the Medal of Merit from JEA.
As a special consultant, Jordan will serve as lead mentor for Walsworth's Adviser Mentor Program. He will also be an instructor at Walsworth's Adviser Academy and Elite Weekend workshops. Jordan will be part of Walsworth's booth experience at the JEA/NSPA National High School Journalism Conventions.
"I love Walsworth's focus on advisers. They see and understand the importance of training teachers," said Jordan. "I love the process of creating a yearbook. That's what has always been in my heart. Helping new advisers learn to love the process too just rings so true to me."
Walsworth continues to support advisers with its many resources available online and through the company. The most recent release is "100+ Great Yearbook Photos that Caught Our Eye and Why."
This eBook features excellent photographs that were taken by students, with a brief description of what makes them great. These photos are divided into seven sections: academics, clubs and organizations, feature or portrait, junior high or middle school, school spirit, sports action and reaction, and student life. It's an excellent resource for yearbook staffs looking to improve their photography or choose better photos to include in their yearbooks.
Walsworth has also announced the release of "The Big Book of Theme Ideas." This addition to the Yearbook Suite Extra curriculum is a great resource for yearbook advisers and staffs trying to find their theme. "The Big Book of Theme Ideas" includes dozens of good themes. These can serve as inspiration or as a library of pick-and-choose themes.
The intended purpose is to help yearbook staffs and new yearbook advisers generate the theme that's right for their book.
"Walsworth works hard to bring much-needed yearbook resources to our customers," said Don Walsworth, president of Walsworth. "These eBooks, combined with Jim's vast yearbook knowledge, serve as tools for advisers and students to use when creating their yearbook."
For more information about Walsworth Yearbooks' collection of new adviser resources, contact Alex Blackwell, vice president of marketing and communications, at 800-369-2965, ext. 5769; your local Walsworth Yearbooks sales representative or call 800-972-4968.
About Walsworth 
Walsworth is among the 27 largest printing companies in the U.S. The company is among the top four yearbook printers and is the only American family-owned publisher of yearbooks. Started in 1937 by Don Walsworth, current leadership is under the second and third generations: Don O. Walsworth, CEO, and his son, Don Walsworth, president. The company operates from administrative offices and printing and binding facilities in Marceline, Missouri, a prepress facility in Brookfield, Missouri, a sales and marketing office in Overland Park, Kansas, and a printing facility in Saint Joseph, Michigan. Additionally, Walsworth owns the Donning Company Publishers in Virginia Beach, Virginia, a specialty book publisher, and The Ovid Bell Press in Fulton, Missouri, a printer of journals and magazines.