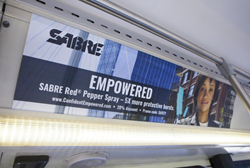 Chicago, IL (PRWEB) September 21, 2017
SABRE is raising awareness about personal safety with a Chicago Transit Authority ad campaign set to run from September 11 to the end of November.
The Chicago, Illinois, based self-defense brand has been waiting for an opportunity like this to reach out to their community and teach them about the ease of taking their personal safety into their own hands.
The ads focus on their diverse line of Pepper Sprays and Pepper Gels that offer a wide array of big benefits in a lightweight and easily concealable package.
From runners out on an early morning run to office workers heading home at night, pepper sprays and gels provide protection from a distance against multiple threats.
SABRE's products in particular are formulated for maximum stopping power and have eliminated the 30% failure rate of other brands as shown through rigorous testing.
They can be used outside, in buildings, or in parking garages, and –in the case of pepper gels--in close quarters like cars or apartments.
Transit users can expect to see SABRE's signs on the Green, Orange, Pink, and Red lines as well as select streets.
From September 11-November 30, SABRE will also be offering a 20% discount with promo code: SAFETY.
About
SABRE, the no. 1 pepper spray trusted by police and consumers worldwide, is family owned and operated with four decades of experience and is the leading brand in personal safety. The company's law enforcement grade pepper sprays provide consumers with the same superior quality chosen exclusively by the New York Police Department, Los Angeles County Sheriff's Department and law enforcement agencies worldwide. SABRE has trained 3,500 officers around the globe on the use of force and how to use pepper spray. SABRE also has a line of consumer personal alarms and home security systems, and is dedicated to educating its customers. SABRE's Personal Safety Academy is available through certified instructors around the world to help teach personal safety skills to SABRE users. Learn more at http://www.SABREred.com, on Facebook at 'SABRE-Security Equipment Corporation', on Twitter @SABRERed or on Instagram @SABRESafety.
Nicki Thomas
Veteran PR
708-733-0728
http://www.veteranpr.com