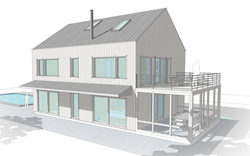 Long Island, New York (PRWEB) September 22, 2017
Ecocor, a construction firm that manufactures, delivers and assembles Passive House buildings, and Richard Pedranti Architect (RPA), a full-service architecture firm focusing on sustainable design, have announced their next Prefabricated Passive House from the strategic partner's Solsken Line of Model Homes. Independently, Ecocor and RPA have extensive experience with site-built and prefabricated Passive Houses, but the homeowners of this house appreciated the customizable design aspects that were offered by RPA and the superior quality building components that Ecocor uses to manufacture the homes in its state-of-the-art facility.
The homeowners worked extensively with RPA to design the custom Prefabricated Passive House of their dreams. Customizations include the addition of the Ecocor SuperRoof, which employs the same healthy, high performance materials as the Ecocor SuperWall while cost-effectively increasing living space.
On the first floor of the house, the homeowners added a shared office space and a screened-in porch off the living room that will feature a top deck that sits outside the master bedroom. The couple decided to expand the master bedroom by eliminating the den that is featured in the turnkey design. The space from the den also allowed for a larger, more open master bathroom.
"The homeowners were interested in a Solsken Home because of the customizable prefabricated possibilities," said Richard Pedranti, Principal at RPA. "As a result, they are not only getting a-one-of-a-kind home built to their exact specifications, but because it will be built to Passive House standard, they are getting the healthiest, most comfortable home on the market today."
In total, the two and a half story house is 3,510 square feet and features three bedrooms and three bathrooms. It was manufactured in Ecocor's controlled fabrication facility which features modern construction technology and advanced production equipment imported from Sweden. Ecocor's team of building professionals will assemble the home before local building partners take over for final fit and finish.
About Ecocor
Ecocor is a construction firm that designs, manufactures, delivers and assembles high performance buildings throughout North America. Ecocor's patent pending foundation and wall designs reduce energy consumption for heating and cooling buildings by 80-90%, which substantially reduces the cost of ownership and the building's carbon footprint, while increasing the comfort of its owners. Using panelized building components as a construction platform, Ecocor has better control, higher quality and much shorter time-to-occupancy than any site-built construction. Learn more at http://www.ecocor.us/.
About RPA
Richard Pedranti Architect is an innovative architecture firm located in the heart of the Upper Delaware River Region specializing in environmentally conscious building strategies. The firm is distinguished by its proven ability to create beautiful buildings that achieve the rigorous Passive House standard. Combining intelligent modern design and 21st Century building standards, RPA creates simply extraordinary places that exist in harmony with the environment and fulfill the unique aspirations of each client. To learn more go to http://www.richardpedranti.com.