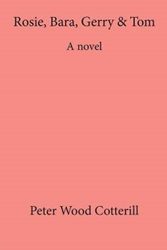 "This fascinating story ponders a variety of 'what if' situations. The book's modern take on love shows there are no guarantees in relationships." - Robert Fletcher, CEO of Strategic Book Publishing and Rights Agency
(PRWEB) October 05, 2017
"Rosie, Bara, Gerry & Tom: A novel" shares the lives and loves of this foursome from 1995 to 2016 as the couples swap partners.
Rosie, 24, is a refugee from Namibia and the daughter of a Herero mother and a Cuban soldier. She lives with Tom, 42, a poor sculptor, in a North London squat for a short time when Tom runs into his old friend Gerry, 52, who he met in Southern Rhodesia/Zimbabwe.
Tom visits Gerry at his home in Bray-on-Thames where he meets Gerry's wife Bara, 33, who Gerry just deserted. Then Gerry meets Rosie. Bara lets Tom stay in her spare room and they become lovers.
The consequences of these chance meetings include a fateful visit to Namibia by Rosie and Gerry; the imprisonment of Gerry for fraud; and Tom ending up homeless again when Bara leaves him for her female lover. What would have happened to these characters had things occurred differently?
About the Author: Peter Wood Cotterill was born at Bexley in Kent and lived in London and Essex during the World War II blitz. His father was killed by a Nazi bomb in 1940. "My mother and I, with my younger sister, were evacuated in 1944 to near Skegness on the sea coast in Lincolnshire to escape the 'doodlebug' raids. We moved to Withersfield in West Suffolk in 1947. In 1951, I emigrated alone to central Africa, where I lived and worked for some 12 years. Since 1976, I have lived in a 17th-century cottage in rural Hampshire." For 25 years, he was trustee of Learning Through Action, an innovative education charity founded by his wife.
"This fascinating story ponders a variety of 'what if' situations. The book's modern take on love shows there are no guarantees in relationships. We are excited to announce its release," said Robert Fletcher, CEO of Strategic Book Publishing and Rights Agency.
ROSIE, BARA, GERRY & TOM: A NOVEL (ISBN: 978-1-94653-975-5) is now available for $13.50 and can be ordered through the publisher's website:
http://sbprabooks.com/PeterWoodCotterill or at Amazon.com or Barnesandnoble.com.
WHOLESALERS: This book is distributed by Ingram Books and other wholesale distributors. Contact your representative with the ISBN for purchase. Wholesale purchase for retailers, universities, libraries, and other organizations is also available through the publisher; please email bookorder(at)sbpra(dot)net.