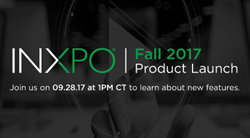 Chicago, IL (PRWEB) September 25, 2017
INXPO's Fall 2017 Product Launch broadcasts live on Sept. 28 at 1p.m. CT and is all about the audience. INXPO STUDIO is the first webcast platform to offer seamless streaming syndication to leading social media sites, and OTT (Over the Top) devices like Roku. This new extended power to reach brings content closer to the audience by streaming to a variety of destinations where audiences are already tuned in.
"The ability to broadcast anywhere with STUDIO gives our customers the opportunity to strengthen their brand awareness. Gone are the days of managing several pieces of hardware to push your content to your preferred destinations, now the technology does the work for you," Ben Chodor, Global Head of Video Strategy at INXPO said.
Health monitoring, a new release item added to the STUDIO producer tool, provides real time statistics on individual attendee and speaker connections to better diagnose any technical issues within the presentation.
"This release item further eliminates any risk involved in a live event by greatly decreasing any time spent resolving connection or delivery issues, and gives our customers greater confidence in their presentation delivery," Ryan Vahey, Director of Product at INXPO said.
Additional STUDIO release items include, 2017 benchmarks for Webcasts and Online Events, personalized login links for seamless entry into webcasts, and attendee checkpoints for engagement verification.
For more information about the recent enhancements to INXPO STUDIO, join INXPO's Fall 2017 Product Launch happening Sept. 28 at 1p.m. CT. Register to attend the broadcast here or see the social streaming capabilities in action and view from INXPO's Facebook, YouTube and Roku channels.
About INXPO
INXPO is the video platform trusted by enterprises, built upon a secure, reliable and scalable foundation that has powered thousands of events and touched millions of users. From fully branded webcasts or online events, to enterprise video portals, our versatile products empower our clients to authentically reach their audiences. Built for marketing, corporate communications, sales enablement and training, our technology delivers engaging video experiences. Many of the world's leading brands trust INXPO to extend their reach, drive engagement and maximize ROI while meeting their business goals. Our customers include market leaders such as Aon, Cisco, Hyatt, IBM, Microsoft and several others.
To learn more about how INXPO can fit into your organization's communications strategy contact us at contactus(at)inxpo(dot)com or call us at (312) 962-3708.