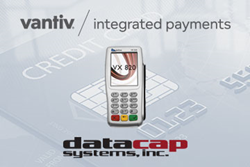 As the adoption of contactless payments has skyrocketed in the Canadian market, merchants have seen an increasing demand from consumers to add the functionality and expedite EMV transactions
Chalfont, PA (PRWEB) September 27, 2017
Datacap Systems, a leading integrated payments middleware provider in North America, has completed EMV Level 3 re-certification with Vantiv Integrated Payments, a provider of payments technology and processing services for U.S. and Canadian small and medium-sized businesses (SMBs). EMV-capable versions of NETePay™ are available for download immediately. NETePay, an industry-standard for payments software, provides hundreds of point of sale providers with the ability to deliver US and Canadian EMV functionality via an evolving list of PIN Pads through a simple out-of-scope interface.
The Verifone VX 820 is the successor to previous certifications for Vantiv Integrated Payments Canada that supported the Verifone VX 810. The latest release adds support for Tap and Pay, a contactless EMV transaction that has gained popularity in Canada.
"Adding Tap and Pay support to NETePay for Vantiv Integrated Payments is a crucial addition for Canadian merchants," commented Justin Zeigler, director of product strategy at Datacap Systems. "As the adoption of contactless payments has skyrocketed in the Canadian market, merchants have seen an increasing demand from consumers to add the functionality and expedite EMV transactions."
"The payment landscape is rapidly evolving to support the way consumers want to pay, and ensuring that merchants have more choice, said Jason Stocksdale, product leader at Vantiv Integrated Payments. By partnering with technology providers like Datacap, it enables Vantiv to serve our large network of partners and merchants who want to gain access to Tap and Pay, a contactless EMV transaction. With NETePay Vantiv can offer new solutions in emerging technologies, without placing extra work on our partners." Our partnership with DataCap is just another example of our strong commitment to the Canadian market thereby creating some of the most powerful integrated solutions in the payment industry."
NETePay for Vantiv Integrated Payments is available for new installations and existing merchant upgrades today. Merchants interested in processing EMV transactions should contact their POS reseller to learn how Datacap payment solutions and Vantiv can help with EMV transaction processing and enhanced cardholder security. Developers wanting best in class integration support paired with leading payments technology can now effortlessly integrate NETePay and EMV Tap and Pay functionality by becoming an integrated payments partner.

About Datacap Systems
Datacap Systems celebrates 34 years of successfully designing, manufacturing and marketing innovative integrated payment solutions for any Point of Sale. One simple interface allows Point of Sale developers to keep pace with evolving trends and payment industry standards, so they can spend development dollars on POS innovation rather than integrated payments. Because we sell our products exclusively through authorized POS resellers, merchants receive high-end payment solutions coupled with top-tier installation, service and support. Integrated payment solutions from Datacap are utilized by hundreds of POS applications in an array of vertical markets. Contact us to learn more!
About Vantiv Integrated Payments
Vantiv Integrated Payments is making payments smarter, faster and easier by partnering with software companies and technology service firms to embed payments processing in front and back office applications. Our commerce technology integrates into a broad set of point-of-sale systems, reaching merchants through an extensive partner network of thousands of point-of-sale software developers and value-added resellers. Our award-winning customer service and value-added solutions help businesses to streamline and build revenue through simple to use commerce solutions.
About Vantiv
Vantiv, Inc. (NYSE: VNTV) is a leading payment processor differentiated by an integrated technology platform. Vantiv offers a comprehensive suite of traditional and innovative payment processing and technology solutions to merchants and financial institutions of all sizes, enabling them to address their payment processing needs through a single provider. We build strong relationships with our customers, helping them become more efficient, more secure and more successful. Vantiv is now the largest merchant acquirer and PIN debit acquirer based on number of transactions in the U.S. The company's growth strategy includes expanding further into high-growth channels and verticals, including integrated payments, eCommerce, B2B payments, and merchant bank. Visit us at http://www.vantiv.com/, or follow us on Twitter, Facebook, LinkedIn, Google+ and YouTube.