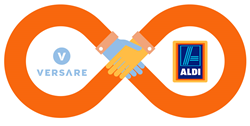 The quick setup of Versare's partitions allows immediate privacy to nursing mothers when the need arises.
Minneapolis, MN (PRWEB) September 24, 2017
Versare Solutions LLC, a manufacturer and retailer of portable room dividers and office partitions, has recently announced a collaboration with the United States branch of ALDI grocery stores. ALDI is using some of Versare's quick-access nursing screens to allow moms to shop (and work) more comfortably. As the need for clean areas for nursing becomes more of a priority for businesses, the discount grocery chain has joined other corporations in providing an option outside of the bathroom.
ALDI chose Versare's Quick-Wall and Room Divider 360 to create private breastfeeding areas in back areas and break rooms so that both shoppers and employees can easily access them. Over the course of about nine months, ALDI has been successfully rolling out the use of the privacy screens at various stores. Founded in 1913, the company runs over 10,000 stores in over 18 countries, with 1600 locations in the United States. The Nord division of the company also owns 418 Trader Joe's locations, all in the United States.
While Versare itself is a small business, the Minneapolis-based company sells products to businesses of all types and sizes. For ALDI, the company chose its Quick-Wall (Folding) Portable Partition, at 72" tall on wheels, and Room Divider 360 in 6' heights and 8'6" lengths. These products are commonly used by offices and companies that want to provide roomy, quiet areas for mothers to nurse their infants or express milk because of their size and acoustic properties. Both dividers unfold easily and can be put into place wherever nursing mothers need privacy, then just as easily folded and stored or moved into a new spot.
About Versare:
Versare Solutions, Inc. is a Minneapolis-based manufacturer and retailer of portable room dividers, privacy screens, partitions, barricades, and other portable products. Versare handles the manufacturing and shipping of all products directly from their MN headquarters, with most products being built in the USA. Co-founders Robert Jantschek & Jeff Ryan initially created the company to offer a more lightweight, durable, and sturdy room divider than what had previously been found on the market. Their selection of products has grown over the years to include a wide array of portable barricades, configurable office cubicle partitions, economical fabric dividers, and outdoor wicker privacy screens.