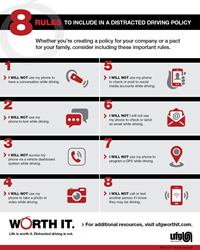 Cedar Rapids, Iowa (PRWEB) October 30, 2017
United Fire Group, Inc. (UFG) has launched an educational and awareness program aimed at eliminating distracted driving.
"Worth It" was created to reach and engage a range of audiences, and also takes a special look at distracted driving among commercial drivers. Proprietary research conducted for UFG highlights some alarming statistics within the commercial driving industry, including one indicating that 93% of commercial drivers think reading a text while operating their company vehicle is considered distracted driving, yet nearly half of those same drivers say they have done it. Additionally, 72% of commercial drivers acknowledge "yes" they could possibly cause an accident due to their distracted driving habits.
One of the company's main goals of the campaign is to offer resources others can use to spread the distracted driving is not worth it message, such as offering tips on what to include in a distracted driving policy.
Whether a business owner wants to create a policy for his or her company, or parents want to create a pact for their family, UFG recommends including these important rules:
1. I will not use my phone to have a conversation while driving. This includes handheld phones, hands-free devices and Bluetooth® devices.
2. I will not use my phone to text while driving.
3. I will not access my phone via a vehicle dashboard system while driving.
4. I will not use my phone to take a photo or video while driving.
5. I will not use my phone to check or post to social media accounts while driving.
6. I will not use my phone to check or send an email while driving.
7. I will not use my phone to program a GPS while driving.
8. I will not call or text another person if I know they may be driving.
The message behind the program was also developed to help people see past crash statistics—at how a life, a family, a business—can be affected when an individual chooses to be distracted behind the wheel.
Randy Ramlo, UFG president and CEO, says the company's goal behind the program is to not only highlight distracted driving issues that are trending in the insurance industry, but to offer ways to help stop the growing epidemic.
"'Worth It' was created as a way for us to offer tools and tips to our insureds and agents so they can do their part in helping to stop distracted driving," explained Ramlo. "Whether that is helping our business customers create a distracted driving policy for their company, or having one of our speakers present at a high school, we hope this campaign will help drivers of all ages realize that driving distracted is just not worth it."
The ufgworthit.com website houses resources to reach the general public, including students, insurance agents and business owners, including:

Research findings
Marketing materials
Book a speaker
Distracted driving PowerPoint presentation
Social media toolkit with sharable social media messages
Videos
Promotional items
Business owners, insurance agents and educators interested in booking a professional speaker or ordering promotional or marketing pieces are encouraged to contact UFG directly by phone at 855-876-3343 or email at worthit(at)unitedfiregroup(dot)com.
About United Fire Group, Inc.
Founded in 1946 as United Fire & Casualty Company, UFG (Nasdaq: UFCS) is engaged in the business of writing property and casualty insurance and life insurance, and selling annuities through its insurance company subsidiaries. Headquartered in Cedar Rapids, Iowa, UFG is licensed as a property and casualty insurer in 46 states, plus the District of Columbia, and is represented by approximately 1,200 independent agencies. A.M. Best Company assigns a rating of "A" (Excellent) for the members of United Fire & Casualty Group. United Life Insurance Company is licensed in 37 states and represented by approximately 1,550 independent life agencies and rate "A-" (Excellent) by A.M. Best Company. In addition to its Cedar Rapids office, UFG also operates regional offices in Colorado, Texas, New Jersey and California. For more information, visit http://www.ufginsurance.com/.