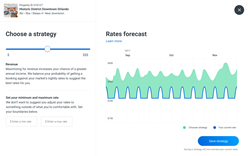 AUSTIN, Texas (PRWEB) September 25, 2017
HomeAway had a surprise at this year's Rezfest, its premier event for property managers held in Las Vegas last week. It unveiled MarketMaker, the industry's first revenue management tool to tap into real-time data powered by traveler behavior. MarketMaker is also the first revenue management tool to provide a view of a market's overall demand and occupancy.
By analyzing billions of data points, MarketMaker provides a holistic view of major factors that affect a property's potential and puts data into the hands of property managers so they can make their own informed business decisions. The benefits of the tool allow users to:

Set revenue and occupancy strategies at the property level
Identify opportunities for higher revenue and occupancy
Easily identify and track competition in the same market
Save time by viewing data and opportunities for many properties in a single dashboard
Find out which local events and holidays could affect demand in a specific area
"Historically, vacation rental managers had to rely on static, incomplete data sets and tools that make pricing recommendations without considering traveler behavior or managers' unique goals," said Cliff Vars, general manager of HomeAway Software. "MarketMaker is unlike any other revenue management solution available because we don't have to guess what's happening in the market; we don't have to make recommendations; we help property managers make better decisions by providing them the data they need, which is unavailable anywhere else."
In addition, the activity feed in HomeAway's dashboard complements MarketMaker by providing a comparison of factors other than pricing that influence a traveler's booking decisions, such as photos, amenities and reviews. This side-by-side view allows property managers to analyze patterns to learn why they have secured a booking or lost it to a competing property.
The company is currently beta-testing a version of this product for property owners and managers. Property managers that attended Rezfest were able to sign up to pre-order MarketMaker.
"To make the best decisions when it comes to managing my vacation rentals, I need data I can trust in a format I can easily interpret to derive meaningful insights," said David Fischbach, CEO of property management company BeachFront Only Vacation Rentals. "HomeAway's MarketMaker and activity feed provide me with current comprehensive information so I can continuously improve the potential of my vacation rentals, whether I'm trying to set the best price for a traveler or understand why my properties did or did not get booked."
HomeAway will share more information at the Vacation Rental Management Association's National Conference in Orlando, October 15-18, 2017, as it progresses toward formally launching MarketMaker by the end of this year.
"It was great to witness our property managers' enthusiasm over MarketMaker at Rezfest, and to hear their stories about how they plan to use our tool to grow their businesses," said Tina Weyand, HomeAway's chief product officer. "We are committed to continuously improving HomeAway's experience for of all of our vacation rental owners, property managers and travelers around the world."
© 2017 HomeAway. All rights reserved. HomeAway and the HomeAway logo are trademarks of HomeAway. All other trademarks are property of their respective owners.