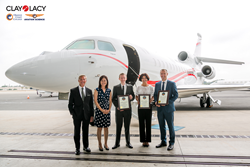 It is inspiring to see local students with a strong passion for flight
Santa Ana, California (PRWEB) September 23, 2017
Clay Lacy Aviation awarded flight training scholarships to two Orange Coast College aviation science students during a ceremony at John Wayne Airport on September 18. Orange County Supervisor Michelle Steel attended the event to recognize scholarship winners Lex Lizotte and Soraya Eftekhari. "It is inspiring to see local students with a strong passion for flight," said Supervisor Steel, who represents Orange County's Second District. "I am delighted to join with Clay Lacy in honoring these remarkable future pilots."
About the 2017 Clay Lacy Scholarship Winners
Lex Lizotte, of Huntington Beach, California, aspires to become a pilot for a major cargo company like FedEx. Soraya Eftekhari grew up in Switzerland and now lives in Newport Beach. Her goal is to fly and train other pilots in seaplanes. Upon graduation from Orange Coast College, each will have earned an Associate of Science degree and private pilot's license. They both plan to complete their aviation education and pilot certifications at a four-year institution.
Recognition from Orange County Supervisor Michelle Steel
"Without the support of companies like Clay Lacy, the cost of learning to fly would be beyond the reach of many local students," Supervisor Steel said. "I also want to congratulate Dean Shrader and Dr. Harriman at Orange Coast College for building such an outstanding aviation school here in Orange County."
Orange Coast College Aviation Science Program
Located in Costa Mesa, California, Orange Coast College has developed a highly regarded aviation program. The curriculum prepares students to become professional pilots or pursue a wide variety of other aviation careers. Program information is available at orangecoastcollege.edu.
About Clay Lacy Aviation
Founded in 1968 by legendary aviator and industry pioneer Clay Lacy. Today, Clay Lacy Aviation is considered the world's most experienced operator of private jets. With five corporate aircraft at John Wayne Airport in Orange County and over 100 aircraft at locations across the United States, prominent individuals and leading corporations trust Clay Lacy for aircraft management, charter, sales, acquisitions, maintenance, avionics, interiors and FBO services. The company has aircraft operations and regional offices across the U.S., including FBOs at Van Nuys Airport in Los Angeles and Seattle's Boeing Field, and FAA repair stations in Van Nuys, Seattle and Carlsbad, California. With the most knowledgeable team in the industry, Clay Lacy delivers superior safety, service and value to aircraft owners and jet travelers worldwide. Visit claylacy.com
Press Contact
Scott Cutshall
Clay Lacy Aviation
+1 (818) 989-2900 X706
# # #