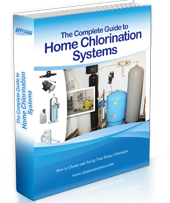 "A chlorinator system is an effective, low cost way to have safe well water free of bacteria" - Gerry Bulfin, Master Water Specialist
Santa Cruz, California (PRWEB) September 24, 2017
Millions of families and businesses worldwide depend on high quality water from their water wells.
Private ground water wells can provide clean, safe, potable water. However, well water can also become contaminated with bacteria and odors from flood waters, leaking septic tanks and earthquake faults, leading to disease and illness.
The EPA does not regulate private drinking water wells. Many states and towns do not require sampling of private wells after installation. It is the responsibility of the homeowner to maintain the safety of their water.
Coliform bacteria, odors and iron in well water are widespread problems affecting thousands of wells around the world and can cause discomfort as well as illness.
Water used for drinking and cooking should be free of odor, slime producing bacteria, and pathogenic (disease causing) microorganisms that cause such illnesses as typhoid fever, dysentery, cholera, and gastroenteritis.
Although several methods eliminate microorganisms and odors in water, chlorination is the most commonly used. Chlorination is effective against many pathogenic and non-pathogenic bacteria.
The 2017 Complete Guide To Home Well Water Chlorination is now available.
The two most common methods of chlorination for residential
well water systems are:
1. Chlorine bleach (sodium hypochlorite)
2. Solid bleach pellets and powders (calcium hypochlorite)
Answers to commonly asked questions are covered, such as:

Why is water testing important?
What is the "chlorine demand" (based on my water test) of my water?
What is the flow rate of my well pump in gallons per minute?
How much contact time do I have after the chlorine is injected?
Why is line pressure important?
The new updated 2017 guide is packed with easy-to-read, fascinating yet critical information that no well owner should be without.
Other important questions answered include:

How do I know if I need water treatment? Where do I start?
How to sanitize wells and water storage tanks
How to sanitize pipes & plumbing
How to eliminate bacteria using chlorine bleach
How to remove chlorine before it enters the home
Clean Water Systems & Stores Inc specializes in water treatment systems for contaminated well water in North America and has over 26,000 customers in over 40 countries. The company provides custom easy-to-install whole house water treatment systems and commercial filtration plants in a large variety of different types and configurations including systems for removing iron, manganese, sand, odors, bacteria, turbidity and sediment.